Zanzibar has been my dream destination for a very long time and I spent four days in Zanzibar with a good friend back in 2019. When I decided to move to Africa and work with UNMISS in South Sudan, I knew that Zanzibar will be the first place I will visit. And the best thing is I wasn't disappointed as it usually happens with a dream destination.
What to know before visiting Zanzibar?
Kosovo citizens get visas on arrival when visiting Zanzibar. It is a single entry visa and it costs $50. My American friend had to pay $100 for a multi-entry visa, valid for three months. The payment is done in cash so bring that with you. As general info, it's always good to check with the country you're planning to visit on visa issues, empty pages you need in your passport, passport validity, and other matters.
The language spoken in Zanzibar is Swahili. If you know Hakuna Matata, you're good to go. Anyways, locals in Stone Town where I stayed spoke pretty good English – so no issues. However, if you go to less touristy areas you might encounter people who don't speak or hesitate to speak in English.
Currency in Zanzibar is the Tanzanian Shilling; however, you can also pay with US dollars in most places. Also, the tours I took were priced in dollars so no issues. Nevertheless, if you plan to go to local markets get some Shillings with you.
ATMs are available in Stone Town. I didn't use one as I've learned to have cash in Africa and am not sure about the fees but they are there in case of emergency.
Public transportation – that I used – is in small minibusses or minivans – that is called daladala and doesn't have timing. They run when they get full – and when I say full I mean REALLY FULL as you have no room to move. My friend and I took one of them to Jozani forest. Not the smartest thing to do if you're short on time.
What to do in Zanzibar?
Swimming with dolphins – I wanted to do something special on my birthday so swimming with dolphins seemed like a great idea. Of course, they were much faster than I am and I couldn't keep up with them. But it was lovely to be in the same waters with them and also just look at them from close enough and still in their own habitat. To do that, our tour took us to Kizimkazi from where we took a boat. The funny thing is I got stung by a sea urchin and my friend was carrying me and then some local guys healed my feet with papaya fruit.

This slideshow requires JavaScript.

Visit the Prison Island – to clear the air, this was never used as a prison but as a quarantine station for yellow fever cases. It's a beautiful, tourist island now that you can visit while in Zanzibar. You can also visit the Giant Tortoise Reservation within the island. Some of the tortoises are more than 100 years old.

This slideshow requires JavaScript.

Spice farm tour – Zanzibar is also known as The Spices Island, so you shouldn't miss out on a spice farm tour. To me, this was surprisingly interesting as I got to see all those spices that I had no idea how they look like, like vanilla or curry. Or a local Tanzanian climbing a papaya tree. Got also some necklaces made at the spot and also some spices paint on my face – lol. In the end, bought also some coffee and other spices from the farm.

This slideshow requires JavaScript.

Cooking class – the spice farm tour can be combined also with a cooking class. I had never done a cooking class before – obviously, I'm not into cooking – but this time decided to take one. My friend and I went to this local woman's house and cooked together with her. It was a fun time exploring this part of Zanzibar culture that usually gets lost among its perfect beaches.

cooking class

Tour the Stone Town – one can take a guided tour but also can just wander around on their own. My friend and I chose the second option. It is so interesting to go around the old town and get lost in its narrow alleys and at times get frozen while not knowing which side to move on when you hear or see a motorcycle nearby. The Swahili doors, the colorful houses, the graffiti, the fishing boats, kids playing football at the beach, the night street food market – all these things are so amazing to experience while in Zanzibar.

This slideshow requires JavaScript.

Support local businesses – we stumbled on this lovely local Cafe Africa & Shops while searching for another recommended place. Nicolas, from the place, explained that there is a project between this Charity cafe & shops. So, Dawn and I decided to have a little coffee and cake birthdays celebration. The profit from Cafe Africa & Shops goes to mothers, nursery schools, art and science labs, and language and computer courses for disadvantaged children.
Jozani forest – if you're into monkeys, this is the place to go. Also, if you get tired of beaches or towns, you can explore this only national park on Zanzibar Island. The place is famous for rare Colobus Monkeys and Zanzibar Sykes monkeys.
Beach time – there are a couple of beaches in Zanzibar to choose from. Our choice was Paje Beach. It was so wonderful: the white sand, the kites, and kitesurfers. It was so lovely to be there, to swim in the water, and to enjoy the view. It was also interesting how with a little knowledge of a foreign language you can pretend to be whatever haha. I was asked by some salesperson if I was Italian and made do with those few words I know in Italian.

This slideshow requires JavaScript.

Darajani market – this is a local market where you can see all the Tanzanians sell – the fresh fruits and vegetables and much more. It is very colorful, indeed, just like everything else in Zanzibar.

Darajani Market, Zanzibar
Where to stay in Zanzibar?
I stayed in the Africa House, which is located in Stone Town, near the Old Fort of Zanzibar and close to Shangani Beach. You can choose your stay in Zanzibar here.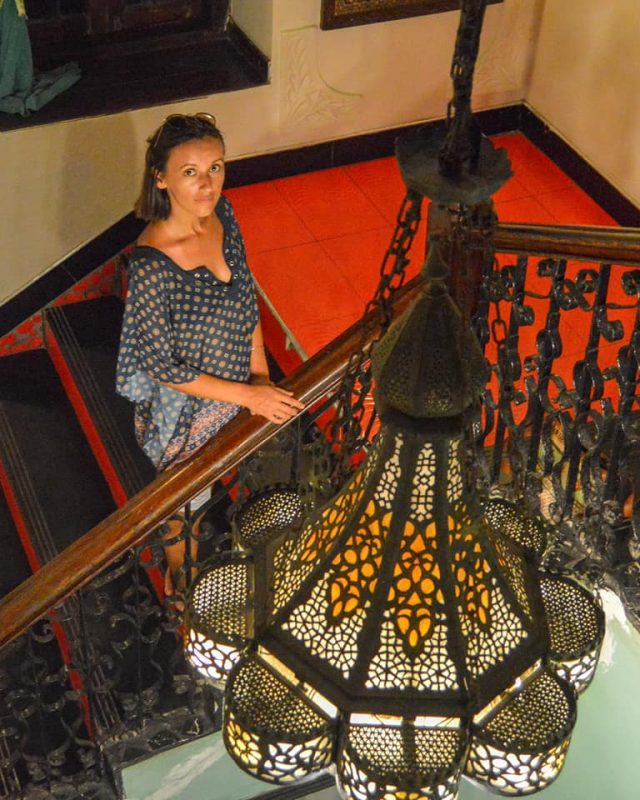 PIN IT!