I am definitely not a hiking person although I enjoy hiking time after time; however, the Theth to Valbona hike will stay long in my memories. Not sure if it will stay just because I had a fun time with Karen from WanderlustingK and Rohan from Travels of a Bookpacker or also because those two days I pushed my limits and tried and went beyond my comfort zone.
Logistics – Theth to Valbona hike
Day 1
If you don't own or have rented a four-wheel drive (4×4), the best way to reach Theth is by the minivans (called furgon in Albania) from Shkodra. You can arrange one for 10 Euro per person at your place of accommodation. The drive from Shkodra to Theth takes about 3 hours through some very narrow streets the closer you get to the mountains. On the way to Theth, there is a place called Qafe Thore where a restaurant is located and usually people stop to take a break and also enjoy the amazing views (or do yoga poses haha).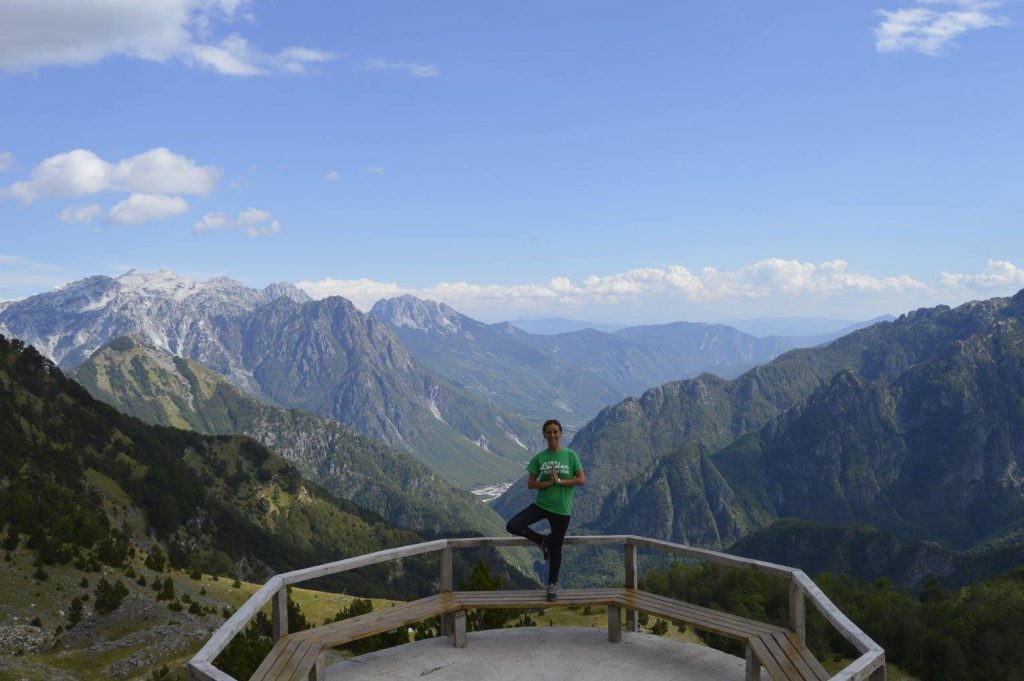 From here, you can continue to Theth village with the furgon and spend the afternoon enjoying the few but lovely attractions it has to offer. You can also hike to Syri i kaltër (Blue Eye) which took us about 2 hours (if memory serves well as it's been a year since this) and then keep hiking or take a furgon to the village.
If you decide to hike, mesmerizing views await for you (in particular, if you're doing this hike during fall when trees become all colorful and it's not that hot). Check out some pictures from the hike and then you can make up your mind.
This slideshow requires JavaScript.
The hike there is beautiful (I know I keep mentioning it but it feels like I can't emphasize it enough) and the end result is definitely worth it. The Blue Eye is an extremely cold water source (even when I went during summer time it was too cold for me to swim although other people do it – like my friend Granit from Alpventurer). I wasn't this much brave to swim there, but you can try if you are.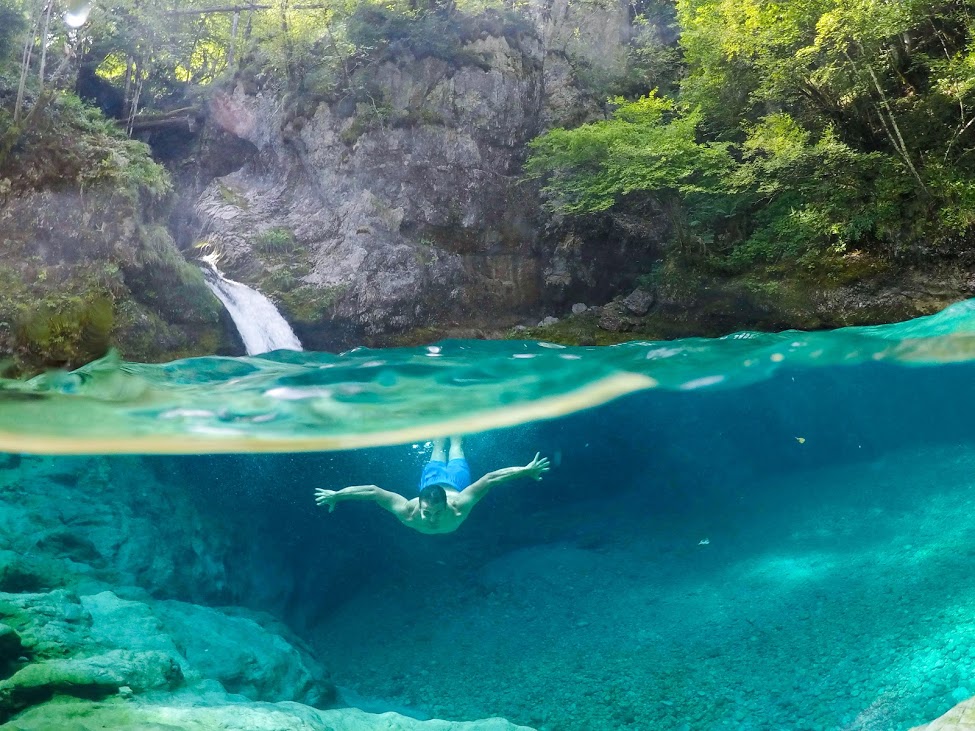 There's also a "dining table" near Syri i Kaltër which can be used to relax and eat or drink whatever you've got with you or you can climb some stairs and go up to the restaurant for some traditional food and even a Turkish coffee and just become one with nature.
This slideshow requires JavaScript.
After relaxing and having something to eat, you can make your way down to the village either on foot or hopping on a furgon which will bring you to the village for a small amount of money. If you're not too exhausted after the hike, you can go around the village and visit its famous church, the house where men hiding (isolating themselves) from the blood feud would stay and just wander around and take in the views.
This slideshow requires JavaScript.
Where to stay in Theth?
We stayed at Bujtina Berishta, which for some unknown reasons isn't at Booking anymore. But you can take a look at the other options you have below.*
Day 2
After having breakfast, with all the bio-food prepared at your accommodation, start your hike to Valbona. Depending on how fit you are it should take about 5-6 hours (or less if you're sportive or more if you take breaks and enjoy the view). We left our accommodation after breakfast and started our hike. We took two breaks (so much needed) and in one we had some great Dutch cheese brought by Karen. It is important to know that there are water sources along the way; thus, bring a water bottle with you. There are also two cute places where you can stop and have something to eat or drink and gather some energy to keep going to your final destination.
This slideshow requires JavaScript.
While hiking, you come across other hikers who have started their hike in Valbona (which is also doable). The road at some point is slippery due to its formations so be careful where you put your feet. The view from the featured image was taken at Valbona Peak from which you can have a great view of Valbona Valley National Park. From this point on, you'll be descending to Valbona village. To me, this was harder than ascending to the top (I guess it has to do with gravity or something LOL).
This slideshow requires JavaScript.
Where to stay in Valbona?
We stayed at Hotel Margjeka where we enjoyed the well-deserved dinner and some beers after the long hike. You can also check these deals in Booking* and find your accommodation.
You can also camp in Valbona Valley National Park. My friend Mendim from Camping Friends does hike & camp to both Albania and Kosovo almost every weekend. I so envy him but haven't been able yet to join him in any of the trips. Check out this picture from one of his trips to Valbona. Wouldn't you want to be there, too?
From Valbona you can take a taxi to Fierze and then take the ferry through Komani Lake (which looks fabulous by the way) and back to Shkodra and continue your trip to Tirana and Kruja, visit the beautiful Albanian beaches, or you can take a taxi to Bajram Curri and from there hop on a minivan to Gjakova and explore what Kosovo has to offer. (Read more about Kosovo here.)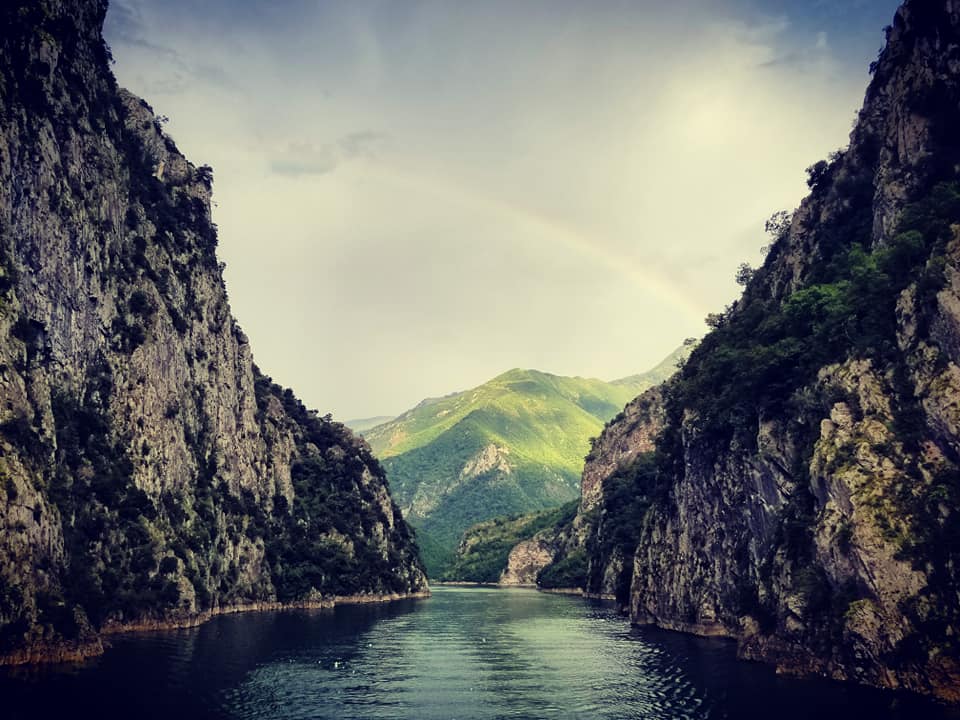 *I'm a Booking affiliate and if you book through my site I get a small commission at no extra cost for you!
PIN IT!