This post shall serve as a guide to using public transport in Pristina, Kosovo. I know how important, frustrating, and yet necessary it is to know how to get around in a new city or country. I was once misled into using private transport by an officer at a tourist information desk at an airport which should never happen to anyone anywhere. This is why this post saves you money when traveling to, in, and outside Pristina.
Pristina is not known for perfect public transport, but it's not that bad either. Many tourists end up spending money on taxi services (which of course are faster and more comfortable) while they can take a bus and reach their destination for much cheaper.
Public transport to Pristina (from the airport)
Starting on May 1, 2019, there is a regular bus line of public transport connection between Pristina International Airport with the city of Pristina for only 3 Euros. The first bus from Pristina leaves at 7 am and from the airport to the city at 8 am. The bus departs from the Main Bus Station in Pristina and picks up passengers in a few other spots. Check this map below and follow this link for updated official information.
Taxi services from/to the Airport
Passengers can also take a taxi to move between Pristina and the airport. It should cost between 15-20 Euros the main taxi companies have a free toll number starting with 0800. I mainly use Taxi Roberti (0800 111 99) even within Pristina but you can also use ETAXI – an eco-friendly company as they use electric vehicles (it costs more obviously).
Public transport in Pristina
Inter-city public transport in Pristina is not very well developed yet; however, it covers most of the city areas and for sure the touristy ones. Tourists coming to Pristina bus station can reach the city via local bus no. 7C which they can hop on at the entry of the bus station. This bus line comes from the bus station towards the city center (or Mother Teresa Boulevard). The ticket costs 0.50 EURO one-way and you pay it to the bus conductor. Currently, there is also a 24hrs ticket which costs 0.80 Euro and it can be used across the public transportation lines (minus the 1A to the Airport). Unfortunately, there are no day, three-day, or five-day tickets as most of the public transport lines are privately owned; however, the Municipality of Pristina is working towards having integrated public transport (I'll keep updating you on this).
More information is provided in the Trafiku Urban. Just click on the bus line on your left side and it will show you schedule and stops.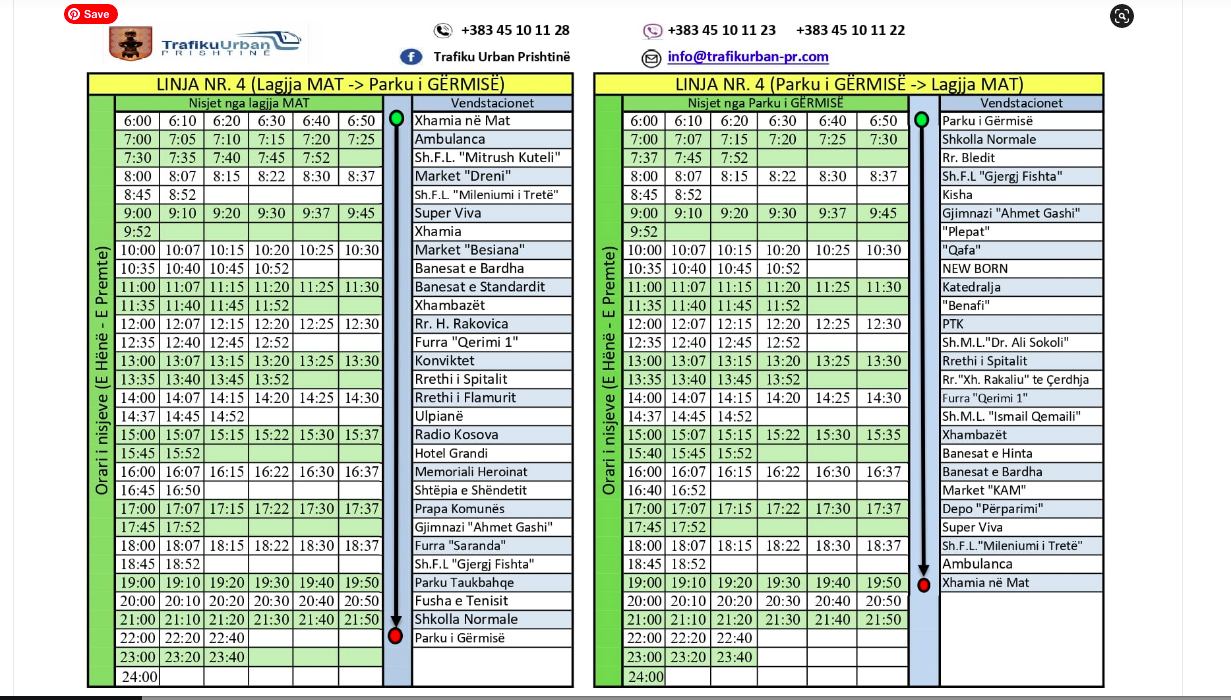 The mobile app Trafiku Urban (Android and iOS) is also helpful while in Pristina as you can see the bus's location in real-time (currently only bus lines 1, 1A, 3, 3B, 3C, 4, and 7C).
Public transportation outside Pristina
The bus station website shows the international lines. There are buses that connect Kosovo with Austria, Belgium, Serbia, Germany, Slovenia, Montenegro, Albania, Macedonia, Sweden, Croatia, and Switzerland. Nevertheless, there's more information needed (and in English) to make tourist planning easier.
That's why I propose you check Gjirafa. This website is a great help for transport in Kosovo and also between Kosovo and the neighboring countries. In addition, once in the country, you can just ask locals for help (we're friendly) and we will search for all you need to know.
In Gjirafa, you can write your destination, and after you click "search" you can pick the date for your travel. It will give you a number of options (depending on the line). For instance, if I want to go to Peja on June 21st, this is the information I'd get. From this list, you can see the time it takes to go from point A to point B and also how much it will cost and the operator.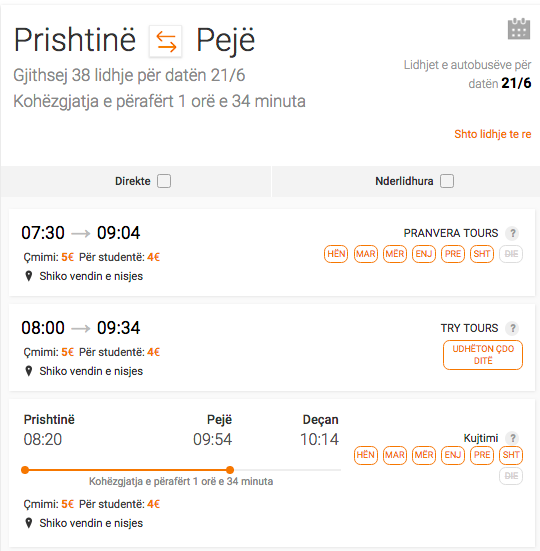 Gjirafa is also handy if you have to go to other cities or the neighboring countries by using public transport. The same process goes for finding out the schedule of buses. However, always check with the company.
PIN IT!
If you found this helpful, pin it so others can use it as well. Don't forget – sharing is caring!