I have to confess that Djibouti was not in my list of travels planned (and I'm not talking for this year but not at all on my radar). I was planning my trip to Ethiopia and for some unknown reason to me at the moment I thought since I'm going to Danakil Depression, I might as well visit Djibouti (when actually Danakil is closer to Eritrea but, hey, I learn the geography of the region while traveling). Anyways, the initial idea was to travel to Ethiopia and then overland to Djibouti but since the eVisa is valid only when landing at Ambouli International Airport I had to change my plans.
When searching for things to do in Djibouti and places to visit I only found three things: Moucha Island, Lake Assal, and Lake Abhe. None of my friends had been there and after considerable research I could get in touch with a French woman living in Djibouti who advised me on what I could do and where should I stay and also we met and she paid for my dinner at an Ethiopian affordable restaurant (more on this later).
What to know before travelling to Djibouti?
As I mentioned, there wasn't much online about Djibouti and I couldn't find many people who had been there. I read the CIA factbook on Djibouti which was helpful somehow but not "touristy-oriented". Most of the things I learned about Djibouti were once I was on the ground. In order for you to be better prepared, here are some things to know before visiting Djibouti:
Djibouti is located in Eastern Africa and constitutes what is called the Horn of Africa together with Ethiopia, Eritrea, and Somalia (and Somaliland);
Djibouti's official languages are French and Arabic, so a little bit of "Bonjour" and "Merci" helps if you can manage; Other widespread languages are Somali and Afar
Djibouti is a Muslim-majority country (94% Sunni); however, I felt safe walking around (in a sleeveless dress). All the attention I got ended up with a simple "Bonjour" from locals
If you're visiting during Ramadan (the month of fasting for Muslims), expect most of shops, restaurants, and others to be closed during daytime hours and everything blooming after 6pm;
Friday and Saturday are weekends in Djibouti and thus make it the best time for tours or day trips;
Djibouti is expensive but totally worth it. If you go off-season, expect to have it more difficult to find other tourists to share costs and be flexible on your dates; and
Djiboutians love their country – you'll see Djibouti flags all over the place.

This slideshow requires JavaScript.
What to see and do in Djibouti?
As I said, it was very difficult to find things to see/do in Djibouti before reaching there. It was interesting to read a comment on a picture of mine on Instagram that in German they used "Djibouti" to say that a place is far away and that I was the first person she "knew" who went there. (Cheers to being the first at something LOL).
Anyways, all I could find out (and actually all I did while there) were the following things:
Get lost on purpose in the neighborhood
I stayed in Heron neighborhood during my visit in Djibouti. Early morning the next day I arrived, I decided to go for a walk around the port (at that time I thought I could take a boat from the nearby port to Moucha Island) and see what was available. Let me say – not much! At least, not if you're looking for the European-type of things to see (I know there are people like that who want to see the same things in all places they visit). However, the walk was nice; I got some "Bonjour" here and there; it was too damn hot even at 8:30 in the morning; and finally, when I reached the port it wasn't the one I could make use of it. Nevertheless, on the way there I came across these beautiful sights in the pictures. Then I hopped on a mini-van (sort of public transport) that took me to Djibouti city.
This slideshow requires JavaScript.
The city had some French vibe (duh, obvious) but most of the things were closed due to Ramadan. Even the coffee place I was recommended I could have a nice morning coffee was closed so I couldn't really see much. Then I got a taxi to go to the port where I could try and take a boat to Moucha Island. Wasn't feeling hopeful but had to try it!
Visit Moucha Island for snorkeling and sunbathing
To visit Moucha Island you'll need to take a boat ride and it takes 30-45 minutes to reach from one of the Djibouti ports – search for the one near Gade Cotes (there are a couple of ports in Djibouti and more being built meantime). This ride, I was told, costs about $200, but if you can find others and split it will be affordable. I tried to find people for it but was impossible. However, I went by the port and from afar I saw some Europeans on a boat and thought I'd ask if they'd take me with them. For certain reasons, irrelevant to the post, I couldn't make it with them. The taxi driver talked with someone and got to know that there will be a boat going to Moucha Island and they'd take me for 5000 DJF. I became a boat-tour-to-Moucha-Island crasher to a mixed group of coworkers visiting from Yemen on their break (R&R). But they welcomed me and we had a nice couple of hours.
The Island is beautiful, and the turquoise water looks amazing. I did some snorkeling and it was lovely though there wasn't much to see in the sea. But I was happy to be there in such a peaceful area (also considering I come from a landlocked country and living in another landlocked – you get me, right?). The island itself looked lovely but too polluted. Too many plastic bags lying around which made me sad for humanity. How come we have the tendency to ruin every beautiful place on this planet? Why can't we clean up after ourselves?
This slideshow requires JavaScript.
Take a tour of Lake Abhe and Lake Assal
As I previously mentioned, Djibouti is expensive. Even more so when you are taking a tour on your own or only with one other person. This tour to Lake Abhe and Lake Assal cost $700 for two people (all-inclusive – ok, alcohol is not). Still, I don't regret it as money comes and goes but the memories will remain with me forever (or at least until my memory serves me well).
This was the other activity recommended in those few places I could read about Djibouti so I had to make it happen. Being only two people on the tour made things easy; we could stop and take pictures whenever we wanted and be on schedule (or add a little bit of extra sightseeing on the way). The wildlife I saw was wonderful and I enjoyed seeing all the camels, donkeys, gazelles, and goats).
This slideshow requires JavaScript.
In addition to the two lakes, there were a couple of other things I saw.
Alcohol store in Heron – Djibouti is a Muslim country and as such alcohol is not available everywhere. However, there is this nice shop in Heron neighborhood where you can find a variety of alcoholic drinks. Also, if you collect fridge magnets as I do, you can find them here!
Bawadi Shopping mall – living in Yambio makes me sometimes miss the shopping malls. I was excited to stop by on our way to Lake Abhe in this shopping mall that looked so good and had all kinds of items one might need. Of course, the prices are high since Djibouti imports almost everything.
Grand Barra & Petit Barra – it used to be a lake and now it's only a big desert plain. The beauty of it is that you can go crazy, and do anything you want (meaning make a fool of yourself LOL) and almost no one will see it.
This slideshow requires JavaScript.
Lake Abhe – the main thing to visit Lake Abhe is not actually the lake itself since there's no accessible way to drive near it. However, one can see all the wildlife which was wonderful to notice, the Afar people living along the way to the lake, the chimneys, the sunset, and most importantly the beautiful sunrise for which you have to wake up around 4:30/5:00.
This slideshow requires JavaScript.
Thermal waters – there are a couple of thermal waters around the chimneys at Lake Abhe. They are not marked so be careful; though you'll notice the steam coming out of them just be careful where you step.
Bay of Ghoubbet (Ghoubbet al Kharab) – on the way to Lake Assal, we stopped at a viewpoint over the Bay of Ghoubbet. It looks pretty amazing. It is supposed to have beautiful beaches which I couldn't go and see but maybe another time 🙂
This slideshow requires JavaScript.
Lake Assal – the lowest point in the African continent, situated 153 m under the sea level and the third-lowest point on Earth after the Sea of Galilee and the Dead Sea. You can float there just like you do in the Dead Sea in Israel/Jordan although it is slightly saltier than it. The beauty is that there are much fewer people around you – like 0 people.
This slideshow requires JavaScript.
Where to eat in Djibouti?
I had a delicious (worth pointing out I was hungry as well) almond tart and coffee from some local place somewhere in Heron but can't remember the name. Then in the evening, I had a nice dinner at the Melting pot. The atmosphere was pretty nice and I enjoyed a talk with a newly-made friend.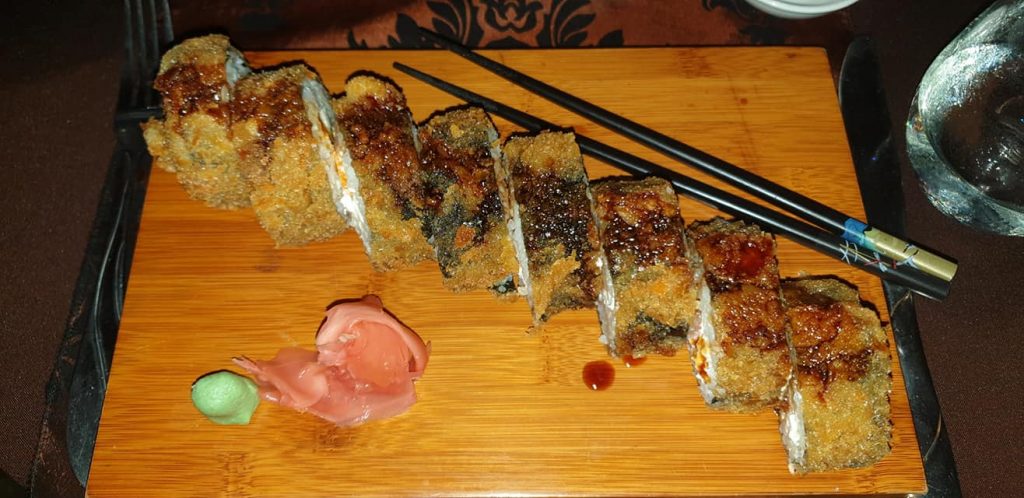 Jules Vern was the other restaurant in Djibouti where I had dinner. It looked like a place where mostly ex-pats hang out (a big table of about 20 of them was celebrating something – or it was just a get-together) and the food was plenty and delicious. It was quality time spent with Dimitri from Nexus Expedition, who's on "a human-powered journey to circumnavigate the world, progressing intermittently, according to local visa restrictions and weather conditions".
This slideshow requires JavaScript.
Where to stay in Djibouti?
I stayed at China Shandong Restaurant and Hotel as I was advised they also organize the tours to Lake Abhe and Assal. The place offers very basic rooms ($35 dollars per night) and is run by Chinese people as the name suggests. They were friendly and since they opened only about a year ago there is still work to be done which they were working on while I was there. However, there was water for free and I even got tea and coffee (not sure if this is provided to all but I got that during my stay). I even got some Chinese breakfast before departing on my tour to Lake Abhe and Lake Assal.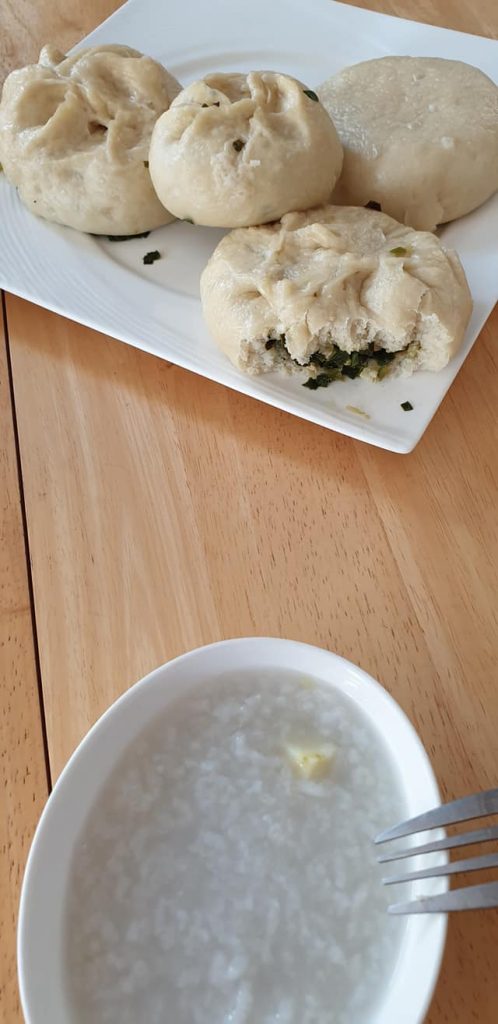 Nevertheless, if you want to stay somewhere else, check out these deals


PIN IT!