Many people would have never thought of visiting Haiti. Venturing off the beaten path is not a common thing. Living in the U.S. provides one with countless things to see and do without ever stepping outside its borders. During my winter break 2015, I decided to travel to countries that were difficult to reach from Kosovo. I knew I'd be coming back in May 2016 and it would be expensive to travel to these far off locations (more than 4.000 Euro even if I book 4-5 months in advance). Initially, I was very ambitious and wanted to see many countries in the Caribbean and Central America, but ended up doing only two of them (The Dominican Republic, and Haiti), and one U.S. territory (Puerto Rico).
I started my trip with Puerto Rico and spent some quality time enjoying the stunning scenery, delicious food, and amazing attractions. I even visited the Bacardi Rum Factory and enjoyed a fantastic cocktail.
Next on my trip was the Dominican Republic. With little to no knowledge of Spanish, it was pretty difficult to get around; however, it was a lovely experience. I visited pretty places, such as the Presidential Palace and Parque Nacional Los Tres Ojos (Three Eyes National Park).
Reaching Haiti
I took a bus from Santo Domingo, Dominican Republic, to Port-au-Prince, Haiti. I was pretty much excited, although I didn't exactly know what to expect. Little did I know, I was about to go on an adventure that I would always remember. Some months later, I read an article that said if you want to feel good about your country go to Haiti. No matter how much I don't want to agree with that, I still can't deny the fact that at that time I did feel good about Kosovo. Not that I enjoyed seeing the Haiti I saw (and I'm aware of the beautiful beach resorts there are in Haiti); it felt comforting to know my country isn't in that condition (not in my eyes at least). What I saw in Haiti is the two extremes of how Haitians live: some in poverty, struggling to survive and others living in luxury, guards at their houses, and expensive cars. Maybe there is a golden middle as well, but I didn't notice it while I was there.
Befriending a little boy from Haiti
I made friends on the bus with a young Haitian boy. My French, of course, wasn't very good, regardless of having studied it in high school and university (but no practice does not make you perfect). However, his mother knew English and, sometimes, when I couldn't express myself in French, she'd help the two of us. This made the trip go faster and be more pleasant.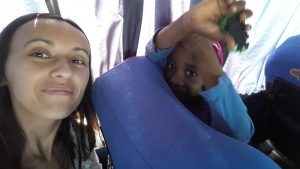 Crossing the Dominical Republic – Haiti border
Crossing the border from the Dominican Republic to Haiti didn't take long and I had no issues since Haiti has recognized Kosovo's Independence. The two national football teams even had a friendly match in 2014. So, needless to say, all I knew before going to Haiti is that the two countries have established diplomatic relations and that our national teams closed the match with a draw (a win-win situation haha). However, the border looked strange to me – a tall wall with a door that looked so tiny. To date, it's the strangest border I've crossed through.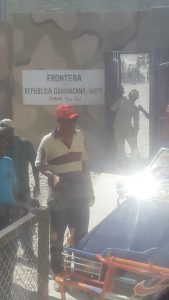 What to visit in Port-au-Prince, Haiti?
Since I had limited time, I had to use it wisely. There was a tour guide at the hotel where I stayed who took us around the city. We visited the Notre Dame ruins and I only took this picture before I was advised to not keep my camera out as there were many homeless people around. I, of course, obeyed although I didn't think the kids who approached would be able to do any harm.
Following Notre Dame, we took a taxi to the market. The gate looked fabulous, but I was scared to take a picture of it (now after looking through Instagram and seeing so many people's pictures I so regret it). The next stop was Musee du Pantheon National. It was a good museum where you could learn more about Haiti, and it doesn't require a lot of time to be spent there (or it could, depending on your interests). Unfortunately, no pictures were allowed so you'll have to go and see it for yourself!
A good friend of mine from Haiti, who happened to be on his winter break, took me and my friends to the mountains (in addition to having hosted at his home where his mother prepared a delicious lunch and having treated us at one of the top restaurants in Port-au-Prince). We drove to Fort Jacques and then explored the castle. The view was amazing, especially since you couldn't really notice all the different lifestyles or various unjust living conditions.
What did I love in Port-au-Prince, Haiti?
The highlight of my visit to Port-au-Prince was visiting the Saint Peter's Church. It coincided that there was a wedding going on, which made the setting come alive. The Church was beautiful; so if you're in Port-au-Prince, don't miss it!
Have you been to Port-au-Prince? What did you like? What didn't you like?
PIN IT!