I lived in Chicago from August 2014 – May 2016 but never dared to call myself a local or a Chicagoan. After being a member of several Facebook groups of travel bloggers now I understand that I could have done so. But I never felt like I came to know the whole of Chicago; therefore, hesitated (and still do) to call myself so. This post is, however, about what I liked in Chicago and what I'll revisit when I return this October. But first, let me give you some information on how I ended up living in Chicago.
How did I end up living in Chicago?
I was working as an interpreter with an EU-funded project at the Ministry of Finance, Kosovo Government, and  applied for a short-term job with Peace Corps Kosovo as Language and Cross-Cultural Facilitator and for a full scholarship to study in the US awarded by USAID Kosovo and Kosovo Government, Ministry of Education, Science, and Technology respectively. I got the job with Peace Corps Kosovo. Soon after I got the acceptance letter for the scholarship as well. Until about a week prior to my departure, I worked with Peace Corps Kosovo, while dealing with all the other procedures I had to go through before leaving for the Windy City.
Initially, I was happy that I was told to go to Phoenix, Arizona. I'd be visiting the Grand Canyon (that was the only thing I knew at that time about Arizona). However, things developed differently and I ended up going to Chicago. I didn't research a lot about the city as I was still finalizing things at home as to be clear before leaving. This would be my first time overseas, and for a long period, so I wanted to say "see you soon" to my folks.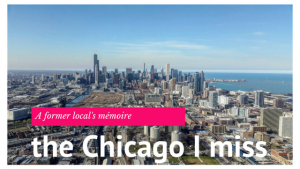 I reached the Chicago O'Hare airport on August 13th. I was too tired to even look outside the van on the way to the hotel. All I wished for was to reach to the soft bed at the hotel and get some sleep. The only things I knew about Chicago were the ones Peace Corps volunteers had told me. I had checked the weather for winter months as I was told it's going to be really cold, but other than that I left it to time to tell. My first Instagram post, thus, included a graph showing temperatures throughout the year and calling Chicago a "temperate city".
Chicago amazed me with its beautiful sunrises and sunsets. I am not an early morning person, so I usually missed the sunrise. But I enjoyed its sunsets which I came to see from different points of the city. Even on a cold day, waking up early morning and wandering by Lake Michigan to catch a sunrise was one of the best things to do in Chicago.
This slideshow requires JavaScript.
Chicagoans know how to be funny in that cold winter of theirs. A street sign meant to inform pedestrians about the possibility of having ice falling on you was changed into this:
I love (and miss) Chicago for the diversity it presented to me. Coming from a country which is 90%+ Albanians made me enjoy the diverse Chicago to the maximum. I loved all the interactions I had with people of different countries, nations, religions, beliefs; I loved the diversity of cultures, traditions, language that I could feel during my time there. Although I'm not a foodie, I loved the availability of food from different countries (and can't wait to be back to have more of it).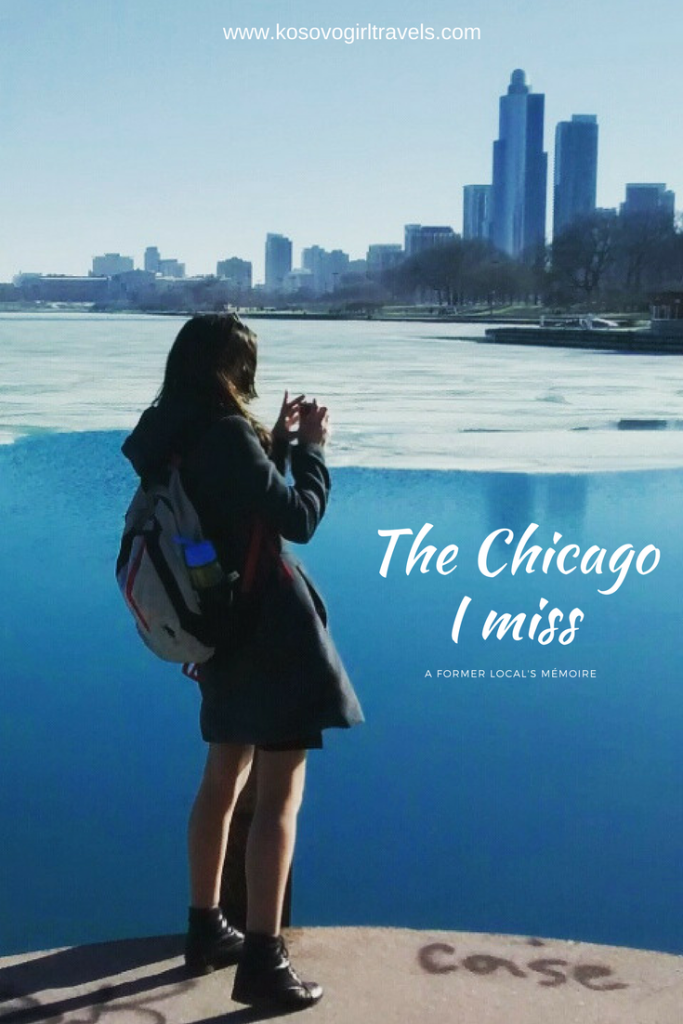 What to do in Chicago
I can't possibly include everything about Chicago in one single post, so I will present you with the top attractions, places to eat, and day trips from Chicago.
Attractions
ART INSTITUTE OF CHICAGO – There are many museums (Field Museum of Natural History, Shedd Aquarium, etc.) in Chicago and all offer great things to see and experience; however, my favorite remains the Art Institute of Chicago. As a student, which made me an Illinois resident, I'd go there on their free days (Thursdays from 5-8pm) and get lost in its collections.
The most amazing exhibition for me at the Art Institute is the one showcasing miniature rooms. I could spend hours staring at the amazing collection it has which takes you from one culture to another, and from one century to another. The three free hours weren't enough to grasp all the miniature rooms offer.
DUSABLE MUSEUM OF AFRICAN AMERICAN HISTORY – Many tourists (or even locals) never step a foot on the south side of Chicago. I used to live in Bridgeport in my second year in Chicago, so for me, this museum was not that far away. It wasn't much that I expected, but I wanted to know more about African American history and this museum was the right place for it. Its exhibits and collections were lovely and I'd love to go back again sometime. It's an eye-opening experience for everyone and I strongly suggest it if you're in the area (or even if you're not – GO THERE!)
CLOUD GATE, A.K.A. THE BEAN – You can't say you've been to Chicago if you haven't visited (and taken a picture of) the Cloud Gate. A Chicagoan Peace Corps volunteer in Kosovo showed his dislike for the Bean. Nevertheless, the Bean is a lovely place for spending some time, having fun with friends while mirroring yourselves in it, and taking lovely pictures of the city skyline reflection in it.
NAVY PIER –  Navy Pier is a 3,300-foot-long pier on the shoreline of Lake Michigan in Chicago. It's a place that offers a variety of activities and things for all ages. It hosts, among others, the Chicago Children's Museum, the Centennial Wheel (from which you can enjoy a beautiful view of Chicago's skyline), and the Shakespeare Theater. In addition, while I lived in Chicago, there were fireworks at Navy Pier on Wednesdays and Saturdays, so don't miss that if you're in the city.
This slideshow requires JavaScript.
Where to eat
BLAZE PIZZA – Chicago is associated with Deep Dish Pizza and everyone goes crazy about it. While I don't want to open an argument about it, I just want to say that it's not my favorite. I found another one which I came to love from the very first time I tried it. The Blaze Pizza was the perfect place for me since it offered a variety of pizzas and the most important was the "Make your own" option. I loved that I could customize it according to my taste and pick whatever I wanted for a fixed price. Blaze also launched its mobile app, so you can win free pizzas or drinks. After several times of eating there, I started feeling like I could just say "I'll have the usual".
PANERA BREAD – I loved everything about Panera Bread; from self-ordering, the variety of food, to the bread bowl soup. I came to love this place and would go back very often (recommend it to others and I even took my parents there when they were visiting me). The environment is also so friendly, the service is great, and the food very tasty. I'm looking forward to being back and going to my favorite Panera Bread on Michigan Avenue). I remember when I was eating there and I took this picture, my friend was teasing me and saying that it won't taste good if you don't take a picture and post it on social media. But then and now, I don't think it's about the taste but it's about sharing the experiences with family and friends (especially when you're living oceans apart).
Where to stay in Chicago?
While there are various accommodation options, I recommend using Booking.com to find the best place to stay. I always use this site for booking my stays when I travel. In Chicago, I stayed at a hotel for only one week at the beginning, but I wouldn't recommend it.
Day trips from Chicago
STARVED ROCK STATE PARK – This state park is about two hours drive (or 98.5 miles) from Chicago and it is known for its canyons, several of which have waterfalls. The park is a good one day trip from Chicago with several trails that you can choose from. Other activities that can be done at the park are boating, camping, fishing, and hunting. If you're in the city and are bored of all the modern architecture (although Chicago offers all kind of things to see) and want to be in nature, head to this state park. However, before going check their schedule and make sure they are open so you don't drive all the way in vain.
BAHA'I HOUSE OF WORSHIP FOR NORTH AMERICA – I hadn't heard of the Baha'i faith before and had no clue what all that is about. I remember seeing some of my friends post about their visit there and I was fascinated by its magnificent building, so I decided to do the trip to see it in person. The Baha'i House of Worship is located in Wilmette; about half an hour drive from Chicago or you can even take the El (Purple Line to Linden and then walk about 6 minutes). Inside the temple, you can pray or meditate, and the most important thing is that the temple is open to all people who want to commune with God.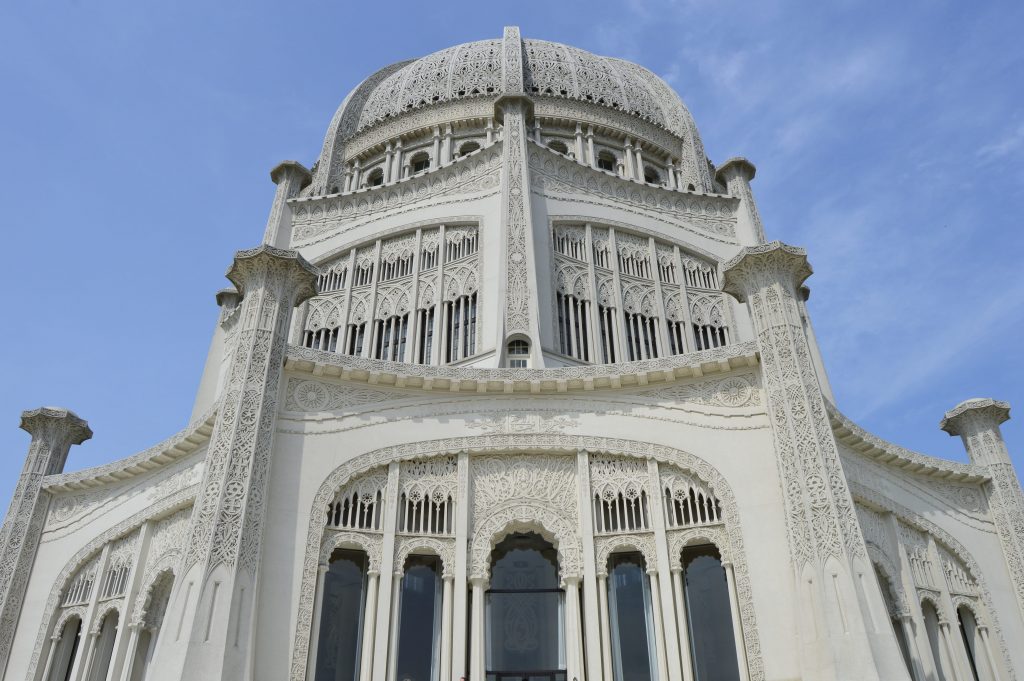 BLOOMINGTON – Bloomington, Indiana was another day visit I did while living in Chicago. I went there to visit friends and the city. I loved the street art and the murals, and above all, I loved the Indiana University campus. The limestone buildings were wonderful and I couldn't stop staring at them. I'd be willing to go and study there just to be around those buildings (lol). The thing that surprised me in Bloomington is that they were not selling alcohol on Sundays.
MILWAUKEE – Milwaukee was among the last trips I did while living in Chicago. Being so close to my home city (about an hour and a half), it was always postponed for "next weekend" and substituted by visits to other states. However, towards the end of my stay there, the time came to visit this lovely city as well. Although it was raining when I visited, I could enjoy some particular sites of my interest. The first stop was, obviously Harley-Davidson Museum, not that I'm a big fan of motorcycles, but why not. I was pleasantly surprised by how beautiful the motorcycles were. Now, I'd love to take a ride on a Harley one day. The next stop was the Art Museum, which by the time I reached was closed but I was good enough with seeing the building from outside. My last stop was the Oriental Theatre. I LOVED the interior here.
This slideshow requires JavaScript.
Curious to see more pictures of Chicago?
Check this gallery below:
This slideshow requires JavaScript.
I have left Chicago, but it will always be my second home 🙂
PIN IT!
If you liked this, pin it so the others can find and enjoy it!