Tirana and Kruja are two lovely cities in Albania that no one should miss while traveling there. Living in Kosovo offers the great benefit of traveling easily and quickly, even for a weekend, to the neighboring countries. This past weekend, I went to Albania with two friends of mine. I had a difficult task ahead of me since one of my friends was visiting Albania for the first time. I had to make sure to show her all the best things. That would leave a good first impression on her (and make her go back). The other friend is not that fond of Albania, so I had to try to change her perception.
Before leaving, we discussed whether we should cover Tirana and Kruja/Durres/Elbasan and decided to go with the flow. We'd wake up on Saturday and see how we feel and go with our gut. One cannot even cover in two days everything in Tirana only, let alone two cities; so, we were going for the basics this time. 
We had a laid-back Friday evening and Saturday in Tirana and enjoyed the sun. On Sunday, we went to Kruja and then back to Pristina. Below is a list of top things to do in Tirana and Kruja if you're there for the first time. These are purely my recommendations and might be very different depending on the person.
Top things to do in Tirana
Visit Skënderbej square

– Tirana has renovated its main square by providing more space for its citizens and visitors to enjoy the lovely buildings around, namely the National History Museum, the Opera and Ballet Theater (which now hosts the Info-Point), the Clock Tower, the Et'hem Bej Mosque, and the government buildings. The Info-Point is rich in information, and it's a good start for the visit. You can get lots of ideas even if you step inside for as short as a five minutes time. The staff is also really welcoming and helpful.




This slideshow requires JavaScript.

Enjoy a drink at Sky Tower

– a restaurant that rotates 360 degrees and provides an amazing view of the capital of Albania. It takes about an hour for the full circle. If you don't like it or get dizzy, you can enjoy a good lunch or dinner at the restaurant downstairs.  

View from Sky Bar

Another option to have a good view of Tirana (if it's a clear weather) is to take the

cable car

and visit

Dajti Mountain.

Going up there gives you a great view of Tirana, and then you can enjoy a lunch or dinner or just have a drink at one of the restaurants, and even do some wandering on the mountain. In addition, you can go hiking, mountain biking, paragliding, and go to the adventure park.

Wandering in Dajti (from the archive)

Climb the Clock Tower –

I have been many times to Tirana and always wanted to climb to the top of the Clock Tower. However, somehow, I was never able to do this until this weekend. The view from up there is lovely. Next to the Tower you purchase your ticket of 200 ALL. That is a museum exhibiting traditional clothes and other artifacts. The lady working there gives a guide in English and the exhibition has descriptions' translation in English as well.

The Clock Tower is open Monday – Friday 9:00 – 16:00 and Saturday 9:00 – 14:00 (no booking is needed).

View from the Clock Tower

Visit Bunk'Art 2 –

Bunk'Art 2

is the tunnel of the Ministry of Internal Affairs that was built between 1981 and 1986 by the communist regime of Enver Hoxha. The bunker consists of 24 rooms, one of which it was for the Minister of Internal Affairs. It was used as a place to protect from potential chemical and nuclear attacks. Today, Bunk'Art 2 tells the story of the communist regime and it is a must-see for anyone interested in knowing more about Enver Hoxha's regime.




Rooms in Bunk'Art 2 are special and tell a story many people don't know or can't even imagine. It saddens me as an Albanian myself to know that all that terror was committed by fellow Albanians. Not that it would be justified if it was done by others, but it would be easier to understand to a certain degree.

This slideshow requires JavaScript.

Visit House of Leaves –  

We took advantage of the free days to visit this

intriguing museum

in Tirana, which is open daily from 9:00 – 19:30. I had heard pieces of stories on how my fellow Albanians lived under Hoxha's regime but never imagined how far the regime had interfered with their lives. The museum made me realize how difficult it must have been to live in Albania at that time, and it also made me (strongly) question why there are still people who

celebrate Hoxha's birthday

. It is unbelievable and horrifying how much the regime dictated and destroyed people's lives, and the stories you hear at some of the rooms just make you realize how fortunate we are to not live under such a dictatorship. Some of the rooms that I was more interested to check were the ones showing how movies and newspapers were used as propaganda tools, and also the equipment used to spy on the regime's "enemies".

Inside a room at communism time

It was heartbreaking to go through rooms and see what Albanians had to go through at that time. It is still unimaginable how crazy Hoxha had been to isolate the country and punish, imprison, or execute people many times based on allegations and not facts.

This slideshow requires JavaScript.

Climb the Pyramid of Tirana

– in one of my previous visits to Tirana I saw some youngsters climbing the Pyramid. Being an adventurous person, I climbed it too. This last time, I did it for the second time with my friend and enjoyed the view of Tirana from up there. As you all know, climbing is much easier than descending, in particular from a pyramid which is pretty steep. However, there were some young boys up there who gave us advice on which side of the pyramid to use to make our trip down easier, and I'm glad we listened to them.

I recommend you climb the pyramid barefoot and take a camera or your phone if you want to take pictures from up there. It will be worth it.
Find the street art in Tirana –

Tirana is a very colorful city, and that is one reason why I love it. In addition, there's lots of

street art

in Tirana. Almost everywhere you go, you'll see some

street art

which will make you think and crave for more. A kind of scavenger hunt. I spotted this one, among many others, which is exactly how I feel every time I leave Tirana and come back home.




Go inside the Cloud –

I'm not talking about taking a plane and going into the cloud. I'm talking about visiting the

Cloud Pavilion

, an artwork of the Japanese artist Fujimoto, installed in the capital city of Albania. This art installation was only put there last year (May 2016) but has won the hearts of many travelers visiting Tirana (myself included).




Visit the Independence Memorial

 – if you're one of those people interested in history, you probably don't want to miss the Independence Memorial. The Memorial, erected on the 100th anniversary of Albania's independence, has the double-headed eagle (which is the Albanian flag symbol) on one side and the Declaration of the Independence of Albania on the other side. It's also described as a home opening from isolation towards freedom.

Independence Memorial

Visit the Berlin Wall piece –

in case you're like me and haven't been to Berlin yet, you can visit a piece of its old wall in Tirana. This piece is a gift given to the capital of Albania by the city of Berlin.

A piece of Berlin wall in Tirana
Where to eat in Tirana
There are lots of wonderful places to eat in Tirana but I'm going to show you three of my favorites.
"Mullixhiu" restaurant –

is considered as one of the

10 hottest restaurants in Europe

by

Hollywood World Magazine.

I did go through

Mullixhiu

's menu, the website, and read some reviews before booking our table for Saturday night; however, I didn't know exactly what to expect. The staff welcomed us with a glass of homemade rosehip juice and seated us at the table. The interior of the restaurant is so beautiful and authentic that made me stare with my mouth open. I confess it was love at the first sight. Their motto is Eat Locally and I fully support it!

After the rosehip juice, we were served kadayif with sour cream while they go through the menu of delicious food. I had Jufka with Porcini and Mishavine which was very tasty, and I'd recommend it if you like pasta. In the end, the staff served us some dessert which also included kadayif. That was a new experience for me.

This slideshow requires JavaScript.

2. Creperie "I saw it first" – this is a perfect place if you want to eat crepes. It is suitable for breakfast, lunch, and dinner. What I usually get there is the "Chicken" or the "Berlin" crepes (I guess I'm in love with Berlin haha). But anything you try there will taste just as delicious as you imagine. It is located in a perfect spot, just walking distance to Blloku.

3. Restaurant Pizzeria "Era" – "Era" has two venues and one is Era "Blloku" and the other one Era "Vila". The one at Blloku was the first one and I remember back in 2007 or 2008 when people were waiting outside to get seated. Era "Vila" is near the "Qemal Stafa" stadium and is as popular as the first one. Both of them provide delicious food, good service, and last year when I had a family lunch at the Era "Vila", they put some notes on the tables urging people to talk instead of spending all their "non-eating" time on their phones. In this internet, smartphones, and social media age, I believe it's important to have a reminder somewhere to spend more time with people.
Where to stay in Tirana
This weekend, I stayed at

Central Hotel

. The owner of the hotel, Edlira, was a very resourceful and helpful woman. She was ready to answer our questions and offer her help as needed. The room was very clean with very comfortable beds (which made it hard to wake up early and visit more of Tirana). The breakfast was rich and the coffee was just amazing. The Hotel is only about 400m from the Skenderbej Square. The only downside (which Edlira can do nothing about) is that there is no elevator and you'll have to climb the stairs to the fourth floor.

Street art near the hotel

Few other times, I've stayed at

Propaganda Hostel

.

This is a more affordable option, usually 10 EUR per night per person in a shared room with shared bathrooms and breakfast. The location is perfect, pretty close to main attractions and all in walking distance. The interior is a manifestation of communism and its leader in Albania, Enver Hoxha. This is a good option if you're traveling solo as you can meet with fellow travelers and enjoy sightseeing in Tirana.
On Sunday, my friends and I had the hard decision of choosing between Durrës, Elbasan, Kruja, and at this point even Petrela. We eventually decided on Kruja. We went to the bus stop for northern Albania, and since the 11:00 o'clock bus had left and the next one was only at 1 pm, we decided to take a bus to Fushe Kruja and then took a minivan to Kruja from there. The transition went smoothly and it allowed me enough time to take a quick shot of the George W. Bush statue.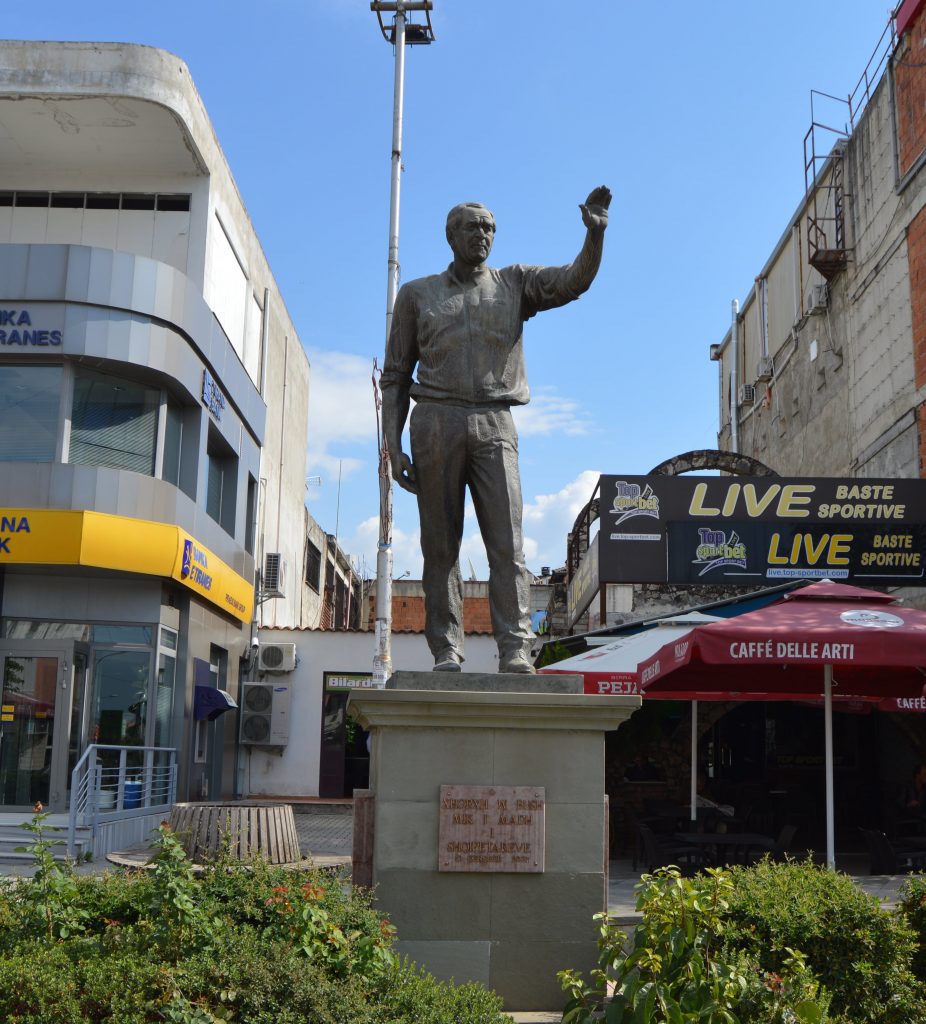 Top things to do in Kruja
Visit Skanderbeg's statue –

this is a must-see attraction when in Kruja and pretty much unavoidable when visiting the city. Stop and take a picture and then head to the Kruja Castle and Skanderbeg's Museum. Skanderbeg is considered a national hero and you can find his statue also in Pristina and in many other countries.

Skenderbeg Statue, Kruja

After this, head over to the

old bazaar

. It's pretty much impossible to not buy some traditional clothes, carpets, rugs, or any other artifacts sold in this bazaar. This time I bought a handmade shirt which I totally love. Going through the irresistible bazaar with shopkeepers addressing to tourists in several foreign languages is a great experience. It's a pretty vivid pathway and brings you to the museum and castle.
3. Visit the Skanderbeg National Museum – this is another must-see, in particular for people interested in history. The visit usually takes about an hour but it depends on your personal interest. This museum honors Skanderbeg, Albanian national hero from the 16th century. The museum is located within the Kruja Castle, so you won't miss it. In addition, there are several restaurants where you can have a meal or a drink and look over Kruja city.
This slideshow requires JavaScript.
4. Enjoy the nature surrounding the castle and the pretty animals you might encounter – the nature is lovely and especially if you go in autumn, all the leaves will have started changing color which provides for fascinating pictures. This time, I encountered two goats and a cat wandering in the backyard of the castle.
This slideshow requires JavaScript.
5. Have a meal with a view – after wandering around the castle and the old bazaar, it was time for us to go back to Fushë Kruja and catch the bus to Pristina, but before that, we enjoyed a good lunch at Restaurant Panorama. We sat on the balcony and had a view of the castle and the city. The view was good and so was the food!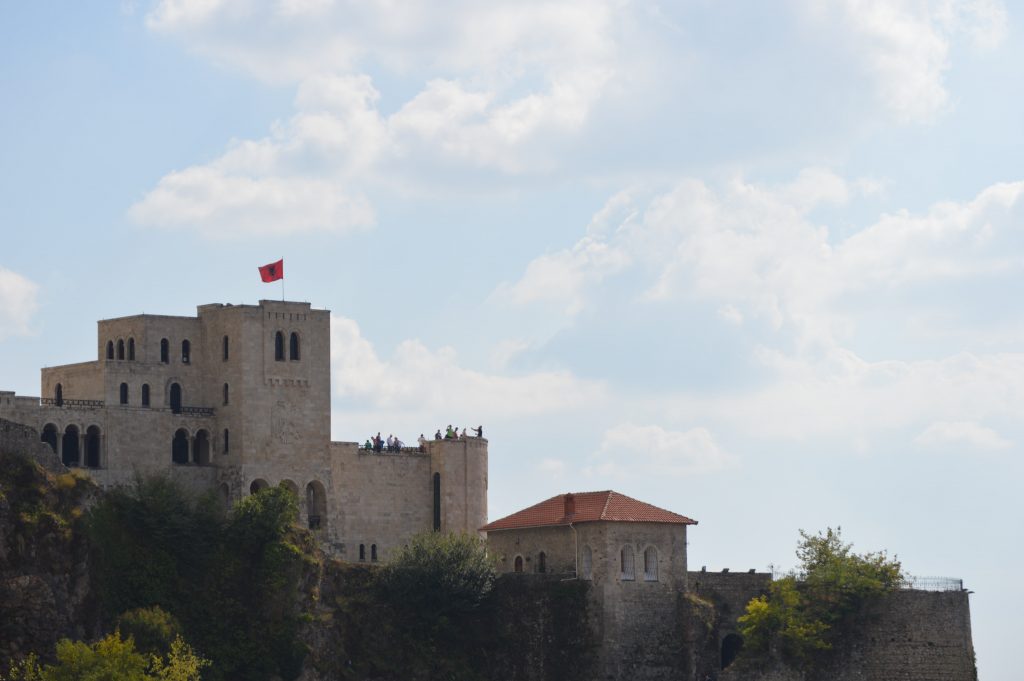 At the end of the trip, my friends felt happy. Both of them already have plans for future trips to Albania.
PIN IT!
Did you like this post? If yes, pin it so others can find and read it too!