There are many events in Kosovo that grasp people's attention. Plenty of them have become internationally recognized throughout the years. Events are a great way of understanding the culture of a country and what it stands for. It is also a good way of having fun and meeting new people. Many events in Kosovo provide volunteering opportunities which are great for travelers. This way, travelers can do both: travel and meet locals, which will give them a greater insight of the country.
There is a variety of traditional and new festivals or popular events in Kosovo happening throughout the year. This list is not comprehensive (there are many festivals happening and new ones emerging).
Below is a list of events in Kosovo (one per month), so whenever you visit, there is an event you can attend.
January  
January can get pretty cold in Kosovo. This year, the highest temperature was 6°C and the lowest -26°C/-14.8°F (even my friend, Ceola, visiting from Chicago was cold). This doesn't mean that life stops in Kosovo because of the cold weather.
One of the festivals that have been around for a long time is Flaka e Janarit which takes place in Gjilan (my hometown), east of Kosovo. The festival honors the heroes and martyrs who lost their lives to free our country. The activities begin on January 11 and conclude on January 31. They include, among others, theater plays, exhibitions, photography, poetry, in commemoration academies, and music events.
February
Kosovo declared its independence on February 17, 2008. There are many celebrations that take place to honor this day. Next year (2018) is the 10th anniversary, so if you're planning to visit Kosovo, save the date. It will be cold at that time, but the lively atmosphere everywhere in the country will warm you up.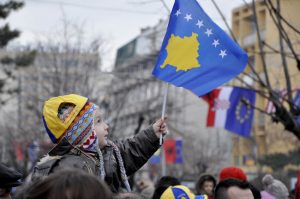 March
Epopeja e UÇK-së  is a traditional festival that takes place from March 5 – 7 in Prekaz. It is a remembrance of the taken lives of Jashari family during the fight against Serbian army. Almost the whole family were killed in the battle against Serbian armed forces, which is considered to be the battle which brought hope to Albanians that freedom could be gained. These three days serve to remember all the martyrs who died for Kosovo's freedom and to celebrate survivors.
https://www.instagram.com/p/BRWLOXbh1Jm/
April
Chopin Piano Festival was established in 2010 on the 200th anniversary of Chopin and now it is a traditional piano festival. The name might make you think that performers only execute Chopin plays, but let me tell you that the plays are a variety of well-known composers, both classic and contemporary. During the festival, two or three concerts are organized, with the closing one being a combination of a local pianist and an international one in cooperation with the Kosovo Philharmonic Orchestra.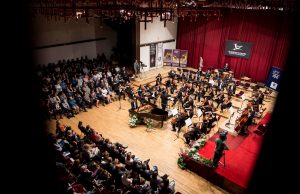 May
Bunarfest was established in 2005. It is a traditional festival which brings together people regardless of their differences. Bunarfest is about enjoying yourselves and "experiencing the thrill and adrenaline while sliding through the Lumbardhi river on a tractor tire". At this time of the year, May 20-21, the river is pretty cold, that's why the brave participants have to use a helmet and other protective equipment to finish the ride safe and sound. I plan to do this next year (still need time to convince myself).
http://www.instagram.com/p/BUZGgYfhgp0/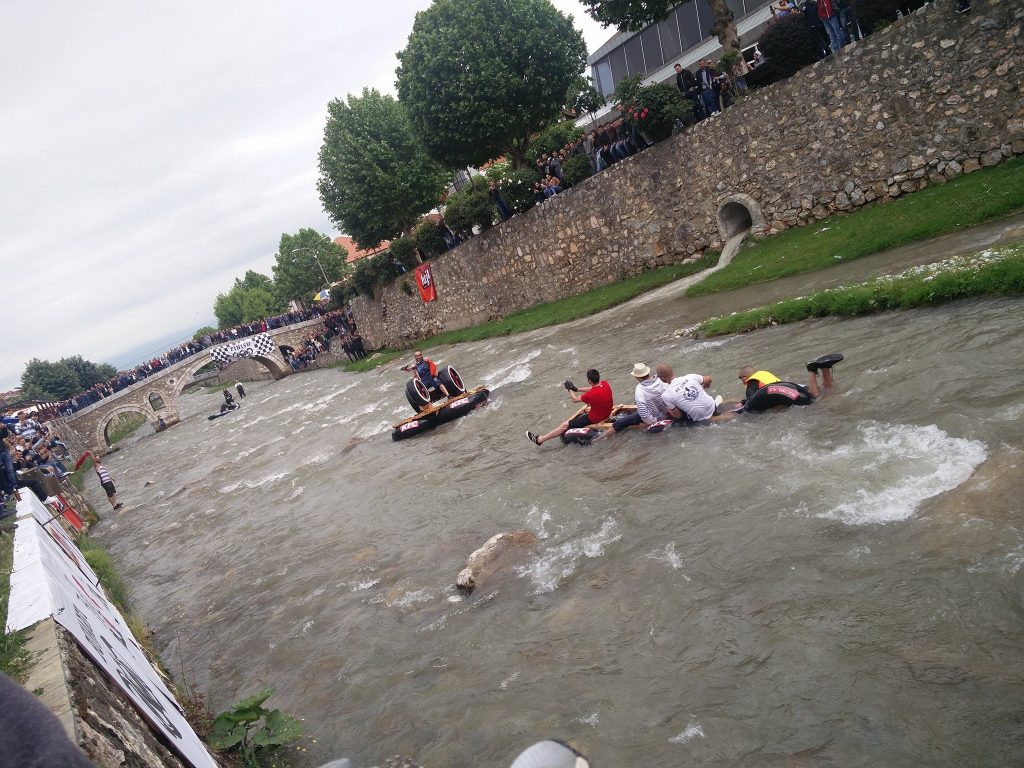 June
Shanti Yoga Fest Kosovo is a Yoga festival that started last year for the first time in Kosovo. This year the festival took place from June 8 to 11 in Etno Village in Kukaj, near Prishtina. It is a great time to be with nature, to enjoy the fresh air and to leave behind the noisy Prishtina. It is also a great event where people socialize, get to know themselves, embrace the nature, and learn how to be at peace with life.
July
Many people associate Kosovo with being a Muslim country and are shocked when they meet Kosovo citizens and notice that we are just normal people like other Europeans. However, let me tell you that Beer and Wine Festival is organized in Prishtina every year since 2013 and this year about 40.000 people attended and enjoyed local and international beers and wines and dance to the various music the organizers bring during the four nights of the duration.
https://www.instagram.com/p/BWK1qW7nt39/
August
DokuFest takes place in Prizren, southwest of Kosovo. This is a documentary and short film festival which brings about 200 films from the world to the audience in Kosovo, which is pretty international. DokuFest, in addition to films, has also events such as DokuNights, DokuPhoto, DokuTalks, DokuKids, Doku:Tech, and DokuLab. This year they also added Doku Yoga which was organized by Butterfly Outdoor. It is a 9 days festival, starting on August 4 and ending on August 12. There are volunteer opportunities, so keep an eye on it for the next year. What I really enjoyed this year was the concert of Robert Bisha and Albanian Iso-Polyphonic Choir in the Prizren Castle. It was windy; however, their music was so relaxing (although my Dutch friend, Stefan didn't like it) that I could stay up there under the sky and enjoy it for longer.
What I really enjoyed this year was the concert of Robert Bisha and Albanian Iso-Polyphonic Choir in the Prizren Castle. It was windy; however, their music was so relaxing (although my Dutch friend, Stefan, didn't like it) that I could stay up there under the sky and enjoy it for even longer.
September
HardhFest is the wine festival which takes place in Rahovec, the most famous city for wines in Kosovo. Tourists skip Rahovec although it has tourist potential. Last year, I went to HardhFest and also enjoyed visiting other attractions that, frankly speaking, I didn't know existed. This year, Hardh Fest 2017 takes place from September 7-10 and will have a variety of activities (check out their Facebook page to be up to date).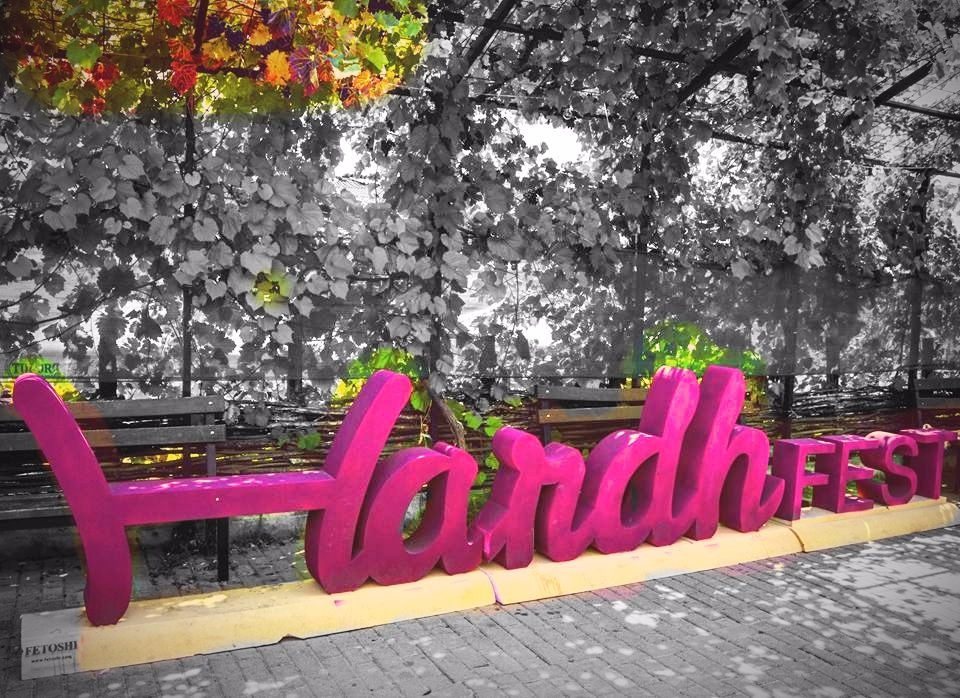 Having a great friend as a local tour guide, Sedat, I could visit several monuments in this lovely Kosovo city, such as the old clock tower (which should be undergoing renovations) or the tekke, whose interior fascinated me (unfortunately, no pictures are allowed to be taken).
October
Kamerfest is a chamber music festival, the first one organized in the post-war period in Kosovo (2000). Many world-famous musicians have participated so far, like Pavel Vernikov, Kevin Kenner, Maxim Vengerov, Derek Han, etc. This year, many other famous musicians will perform, so keep an eye on it!
https://www.instagram.com/p/BKn9IE-gl_t/
November
Kosovo widely celebrates 28 Nëntori – the National Flag Day –  although it is not an official holiday. It was on this date in 1912 when Albania declared the independence from Ottoman Empire. However, Kosovo was occupied by Serbs, hence we couldn't enjoy the independence until 2008 when Kosovo declared it's independence as a new state. Nevertheless, 28 Nëntori is never missed and Albanian flags are put throughout the country and lots of activities, concerts, parties are organized everywhere. Many internationals do not understand why Kosovo citizens celebrate Albania Independence; thus, I usually end up giving a small history lesson (and I don't do it very well, honestly, but they get the point).
December
Verë n'Dimën is an end of the year festival, kinda Christmas market, that takes place in Prishtina, the capital of Kosovo. "Zahir Pajaziti" square hosts several wooden houses that sell various kind of drinks, pastry, hot dogs, and other holidays gifts. It's a nice environment to have a drink and meet-up with friends and family. At this time of the year, it starts getting cold and this is exactly why passing by Verë n'Dimën and having a glühwein is a good idea.
P.S. This is just a selection of 12 of many events in Kosovo throughout the year. Let me know if you have questions and I'll do my best to answer!
Where to stay in Kosovo


PIN IT!