I recently spent a week in Germany,  specifically, I was based in Berlin and visited Potsdam and Hamburg. For sure one week is not enough to visit Germany or even a part of it. Therefore, I decided to visit Berlin. Since I was visiting during the international workers day, I headed to Hamburg so I could avoid the masses. I try to go to less crowded places whenever possible.
Four things to know when planning your trip to Germany
Plan your trip in advance.

This way you get a good deal on your flight/train/bus ticket. For example, I booked in late February for and paid around 70 euro round trip from Pristina to Berlin.

Learn some German.

I'm not talking about going to a language course or learning the language through an app but a few words would be really good to know although almost all the people I met knew English. Words like

Danke

(Thank you),

Bitte

(you're welcome),

Guten Morgen

(Good Morning),

Ja

(Yes),

Nein

(No),

Lecker

(delicious) could be used throughout your journey.

Eat street food and drink at kiosks. Street food, such as currywurst or bratwurst, is tasty, fast and doesn't make you break the bank. Several kiosks have benches just outside of them and you can buy cheap beers and hang out with friends. The only problem is the restroom, but you can go to any of the places around and ask to use theirs. Probably you'll have to pay but it will still be cheaper than going to a posh bar.

Currywurst, German food

Do something crazy.

My crazy thing was climbing on top of an abandoned (or left in purpose) plane at Tempelhof Feld, Berlin. It is illegal though as it is fenced for our security so it will be your own responsibility if anything happens. It's one of those "don't try this at home".

Berlin, Germany

Try something you've never done before.

For me, this meant going to an Opera night – a fabulous belated birthday gift by my fantastic friend who hosted me and showed me around Berlin.

Opera in Berlin, Germany
Five things to help you while in Germany
Purchase a 7-day public transportation ticket for Berlin. This is a smart thing to do as the ticket is valid for S-Bahn, U-Bahn, and buses and it only costs 30 EURO while a single ticket costs 2.80 EURO for adults and 1.70 EURO reduced price (Check out other prices here).
Divide and conquer the capital of Germany, Berlin.

I'm not talking about becoming the next Hitler or something. Just in terms of managing to cover all attractions you want to visit, it is smart to have a map and point to the places you want to visit and then divide the load according to neighborhoods.

Berlin, Germany

Plan a day trip to Potsdam.

It is a beautiful city and it is manageable to visit the main spots in a day trip from Berlin. Don't forget to buy the extension ticket to your 7-day ticket, which only costs 1.60 EURO one way!

Potsdam, Germany

Plan a night/2 days in Hamburg. It only takes about 2/3.5 hours (depending on how you travel to – bus or train or car). I took a Flix Bus there (which I will write about more in my Hamburg post) and it cost about 30 EURO roundtrip (purchased very late due to my indecisiveness on when to go).

Hamburg, Germany

Definitely, visit the Reichstag – German Parliament Building. The German parliament is located in a very beautiful building (I still adore the Hungarian one more though – sorry Germans) and also provides a great view of the surrounding. You need to book in advance or go on your first day in Berlin to the building and sign up and they'll tell you if there's room.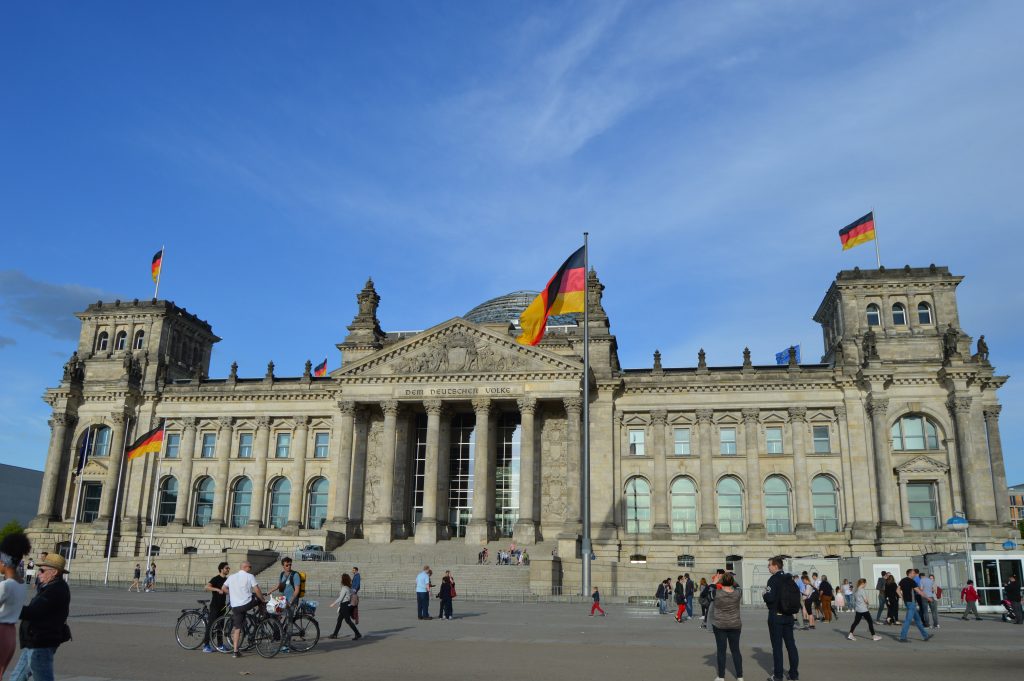 PIN IT!