Zagreb, Croatia – What to do and see?
I don't think I'd be going to Zagreb if it wasn't for the LEAP Summit. When I asked for recommendations, most of the people said to go to Ljubljana instead (which I am going to visit soon). However, I am glad I went to Zagreb because I enjoyed my time there and the events I attended.
I found Zagreb lovely and it kinda resembled a perfect combination of Prague and Vienna to me. It has the colors of Prague and the architectural style of Vienna.
7 things to know before going to Zagreb
Croatia is in the European Union. In case you need a visa to enter, you can use your Schengen visa (if you have one) or you'll have to apply for a Croatian visa (valid only in Croatia).
The language used in Zagreb and throughout Croatia is Croatian. Some people could get offended if you speak Serbian to them (although it is very difficult to distinguish as both are Slavic languages and used to be one as Serbo-Croatian).
Kuna is the Croatian currency and 1 Euro is about 7,3 Kuna (but always check via a currency converter beforehand).
Zagreb is not that big (I'm talking about the touristic area). I'd say two full days are enough to explore the main attractions.
Public transport is very efficient and affordable (a 30 minutes ticket costs only 4 Kuna). Also, you can take the Airport Shuttle to the Main Bus Station and it costs 40 Kuna (or 5 Euro)
Croatians are friendly and if you need help with anything – feel free to ask. They'll do their best to assist.
Learn some basic words in Croatian (don't use them when you can't keep up a conversation – I'll explain more about it below). Some basic expressions are Hvala vam – Thank you, Dobro jutro – Good morning, Doviđenja – Goodbye, Molim – Please, Delicious – ukusno, and Pekara – bakery (because their bakeries are great).
Top attractions in Zagreb
Museum of Broken Relationships – this attraction was the most common one I got when I asked for recommendations. Needless to say, I visited the Museum and enjoyed it A LOT. I usually don't go to museums, but this one was very special so I couldn't miss it. The museum showcases memories of broken relationships, be it a love relationship or family relationship and people from all over the world can contribute to its exhibition (yes, you can do that by sending an item or sharing your break-up story). I spent about two hours there reading every story and feeling their pain while also thinking about break-ups I've been through. Not easy at all, but I guess it feels good to get rid of those last memories you might have of an ex-.
This slideshow requires JavaScript.
St. Mark's Church – I visited it on Sunday and, to my surprise, it was closed. However, the exterior is lovely and also the surrounding is pretty colourful. Additionally, it wasn't that crowded when I visited so I could take a picture with (almost) no one around. This doesn't happen often when one visits attractions, but I guess I was just lucky. I could go inside through the one door on its left, but the insider door was closed. I only could look through the glass and it was too dark to take a good picture.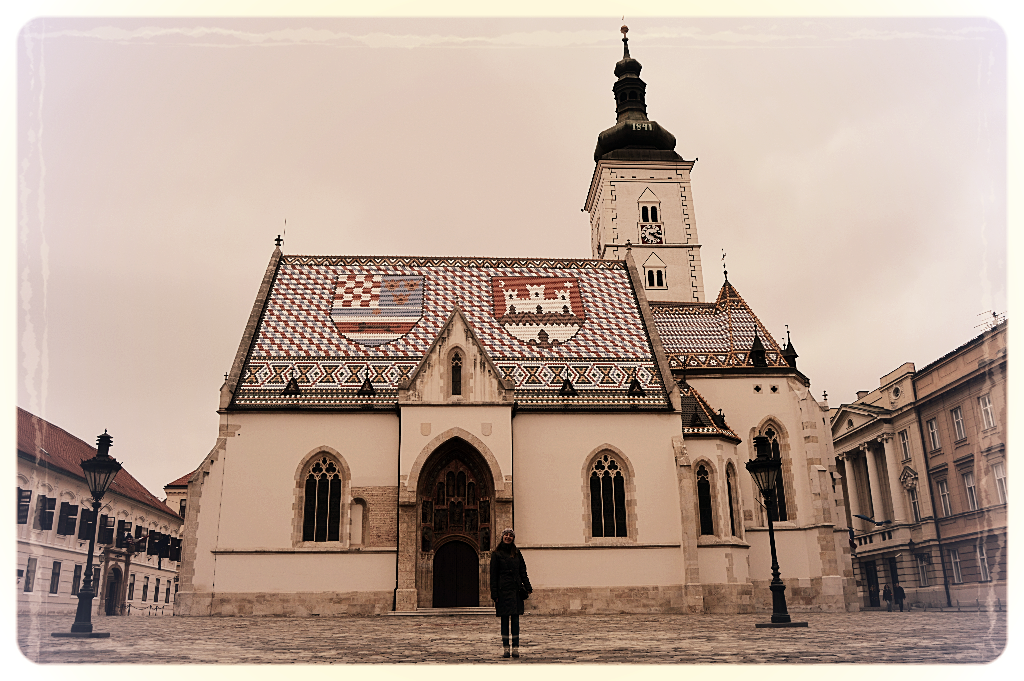 Funicular – to go up to the Kula Lotrščak and the old part of the town, you can either take the stairs or take the funicular. The ticket of the funicular is only 4 Kuna, the same as for the public transport, and it's a short ride.
This slideshow requires JavaScript.
Tunnel Grič – I wasn't sure it's worth visiting a tunnel. After all, it's just a tunnel and not much to see. However, with the Festival of Lights happening at that time in Zagreb, the Tunnel looked lovely. As I was wandering solo I asked some young girls to take a picture of me (in English) and then at the end of my question I said – razumeš (which wasn't correct) – which is pretty similar to razumjeti (understand) and the girl was confused, rightly. So, don't do this!
This slideshow requires JavaScript.
Cathedral of Zagreb – Having visited so many Cathedrals up to this time in my life, I didn't find it very special. However, if you're in town, you can pay a visit. This is an early 12th-century Neo-Gothic building and it's open on a Sunday. Also, the surrounding environment is lovely and there are a few cafés where you can sit and have a drink.
This slideshow requires JavaScript.
Ban Josip Jelačič – not only this is the most common meeting point, it's a venue where also other events happen. A market hosting traditional food, clothes, and other items which looked as a great place to get some gifts and try some Croatian food was organised while I was there. It unfortunately rained and was pretty cold; however, that didn't stop people (locals and visitors) to go to the market and supply themselves.
This slideshow requires JavaScript.
Other places to visit in Zagreb
Museums – If you are into museums, Zagreb has many museums which could interest you. I stopped by the Museum of Torture three times and discussed with myself whether I should go inside or not. At the end, I couldn't convince myself and didn't think myself strong enough to look through it. Another museum that looks interesting is the Museum of Illusions or the Museum of Croatian Naive Art.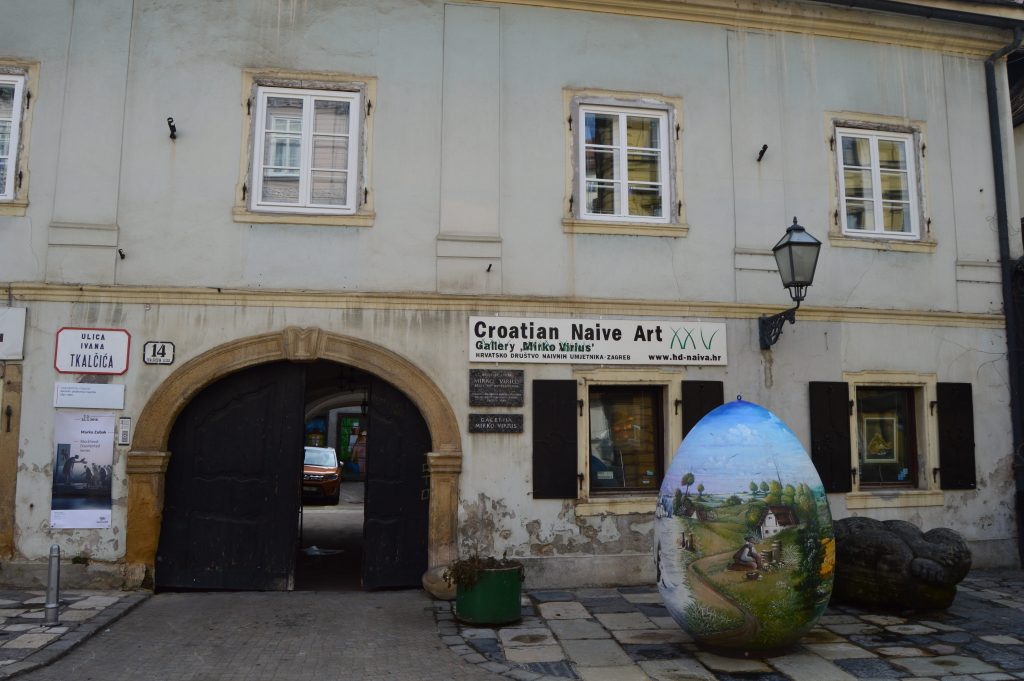 Croatian National Theatre – I, of course, wouldn't be able to understand a play in Croatian but this beautiful building is worth paying a visit even just for the sake of its exterior.
This slideshow requires JavaScript.
Kula Lotrščak (Tower) – I usually go to the highest peaks when visiting a city but this time I missed the Tower on purpose. It seemed to me that I could see Zagreb also from the platform near the Tower so I skipped it. However, I got these other views from the platform which I loved and I think you'll love them as well.
This slideshow requires JavaScript.
Nikola Tesla statue – There's always this discussion about Nikola Tesla, whether he was a Serb or a Croatian? To explain it, he was a Croatian of Serbian origin, born in the territory of what is now Croatia and which at the time of his birth (1856) was under Austrian Empire. I actually didn't plan to visit his statue (I'm not a scientific-oriented person if that explains anything), but stumbled on it while searching for a bakery to be open on a Sunday in this part of the city.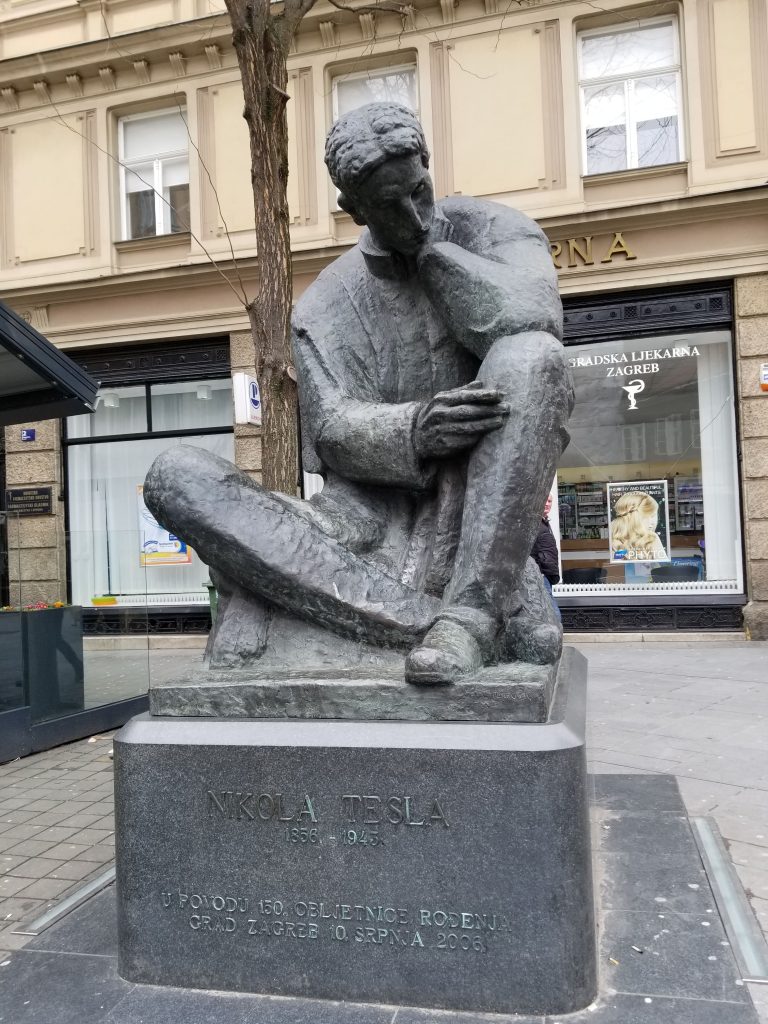 Stone Gate – not a very fancy place to see from the distance; however, you'll be going through it if you're wandering around the old town, in particular, if you walk from the St. Mark's Church to the Cathedral. There's a legend that when a fire took place in 1731, the only thing that saved the destruction was the painting of the Virgin and the Child. People believe that has magical powers and I saw a couple of people praying and some others lighting candles.
This slideshow requires JavaScript.
Tkalčičeva street – a beautiful, colorful street full of restaurants and bars where one can eat, drink, hang out, and kill time. This is a not to miss place, not only because your stomach will be full but also to experience the lovely buildings full of life and the coziness it offers to visitors.
This slideshow requires JavaScript.
Where to eat and drink in Zagreb
Mala Kavana – this is a lovely café place located in the main square in Zagreb, Ban Josip Jelačič, where I, and my two friends, enjoyed a great breakfast. Reasonably priced and good coffee and quality were all we needed, and Mala Kavana offered that.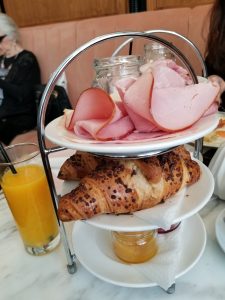 Dubravica Bakery – bakeries are a fast solution to eating something in-between meals, be it a croissant or other baked goods, the chain of Dubravica bakery is the place to go. Not only the goods are great but also the environment looks so lovely and inviting that is hard to resist.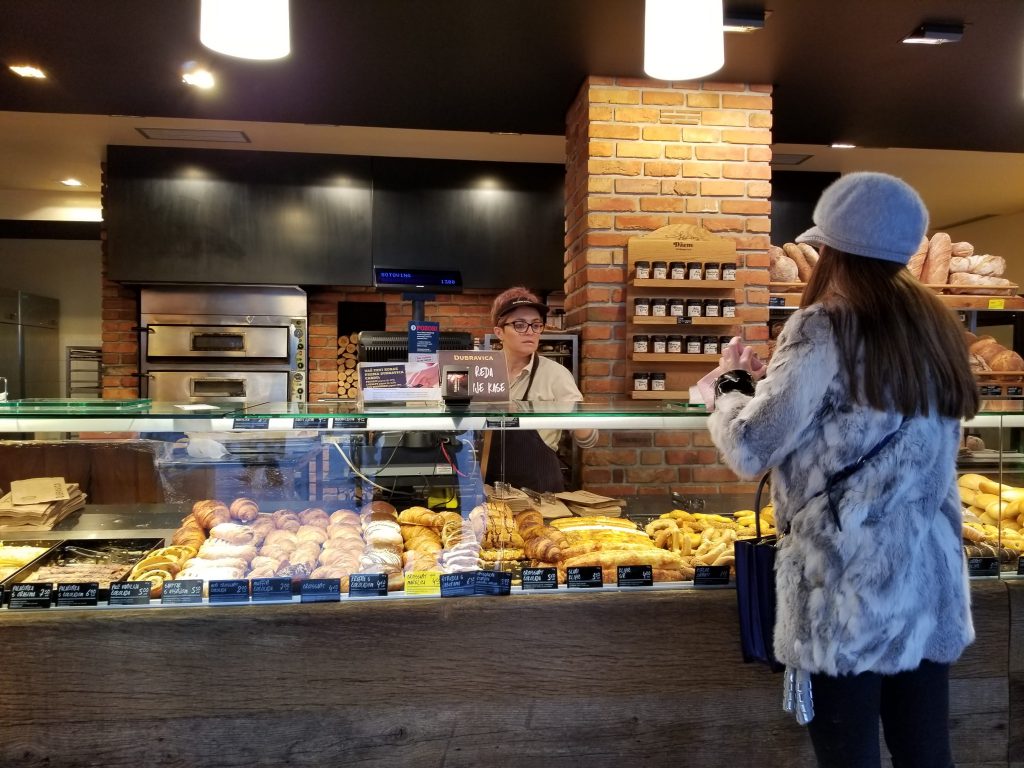 Tesla New Generation – I'm that person who finds it difficult to do anything before having a coffee. If you're like me than Tesla New Generation is the place to go. Their coffee is great.
Umami – I was wandering around and kinda missing Asian food (I'm from Kosovo so really didn't miss or had no urge for Balkans food) so went to Umami. Not only the food was delicious but also the employees were so happy people that made all the experience worth it.
Cookie Factory – you love brownies but you love ice-cream as well and can't decide or afford to have both? Well, here you can have both- a specialty consisting of several types of brownies (I had the mint one) and ice creams. It's DELICIOUS.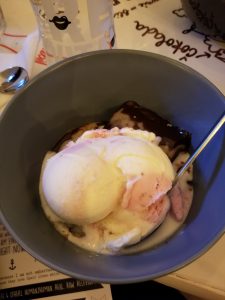 Submarine – if you're craving for a good burger (both ham and veggie) or fries – don't miss the Submarine burgers.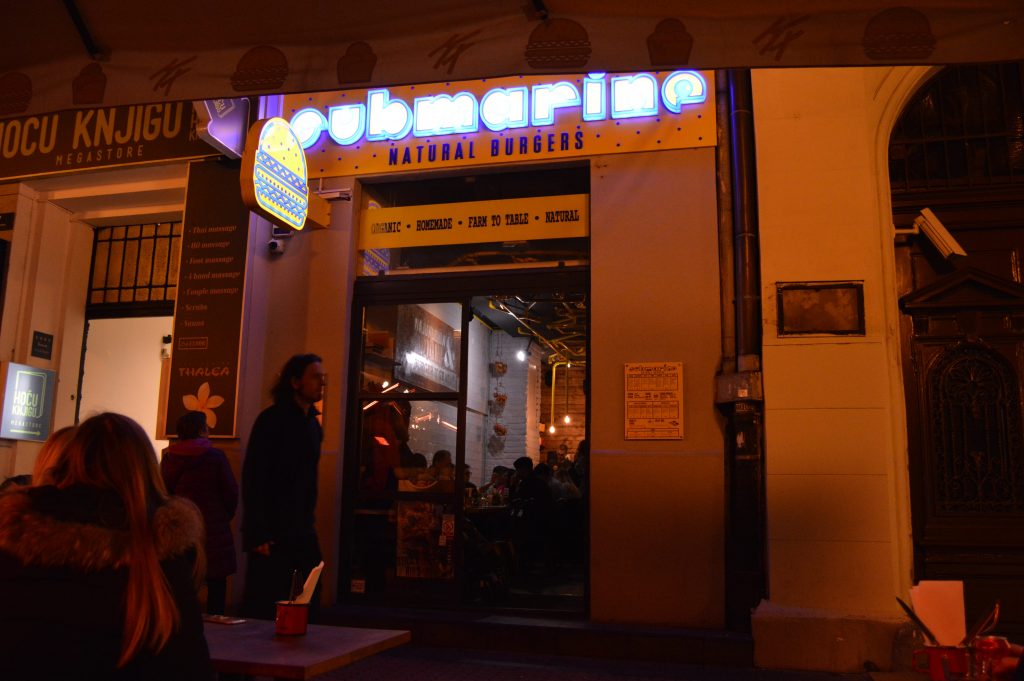 If you need more inspiration on what to eat, check out this post on street foods in Zagreb. I am sure you will find something to your taste!
Nightlife in Zagreb
Tolkien's House – A very cozy place to have a beer or other drink and have a lovely conversation with your company. From the outside, it might look empty (as it did when I went) but it's a totally different atmosphere inside.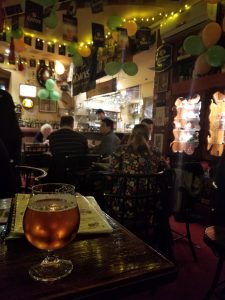 Vinyl – this is that kind of place that it's a bit hidden (until you find it lol) and takes efforts to find it and proves totally worth. Nice interior, good service, and great music.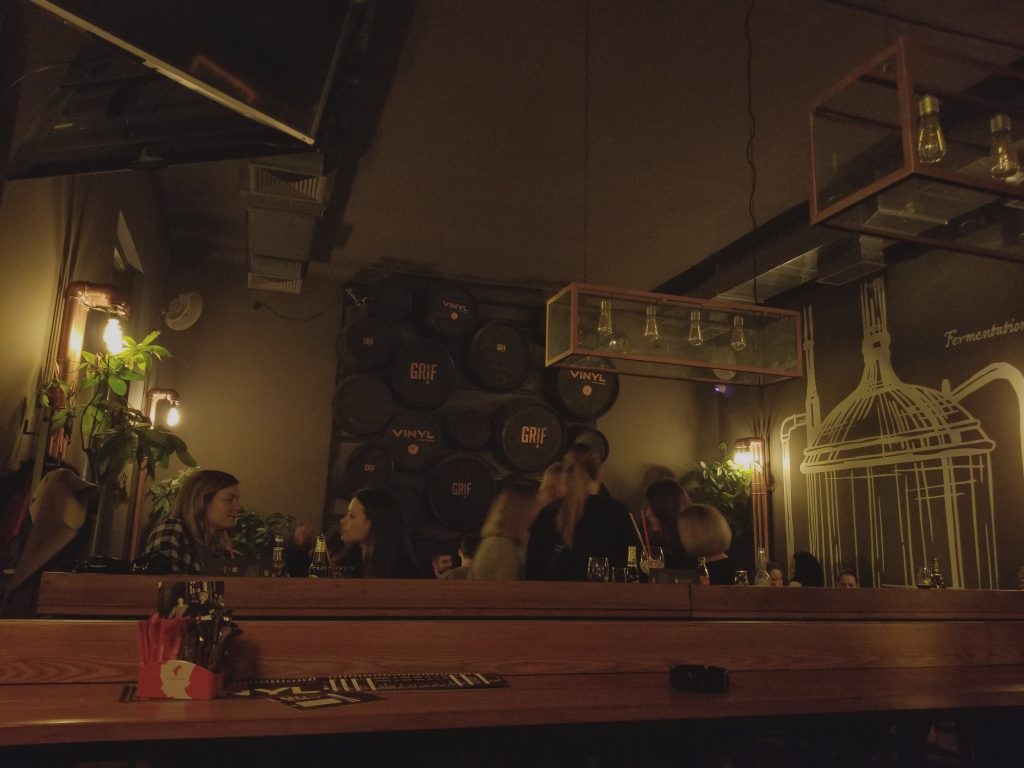 Irish Pub – Yes, I don't think there's a capital city somewhere that doesn't have an Irish Pub. This was a lovely place to have a drink and listen to some live music which happened to be organized for the St. Patrick's Weekend.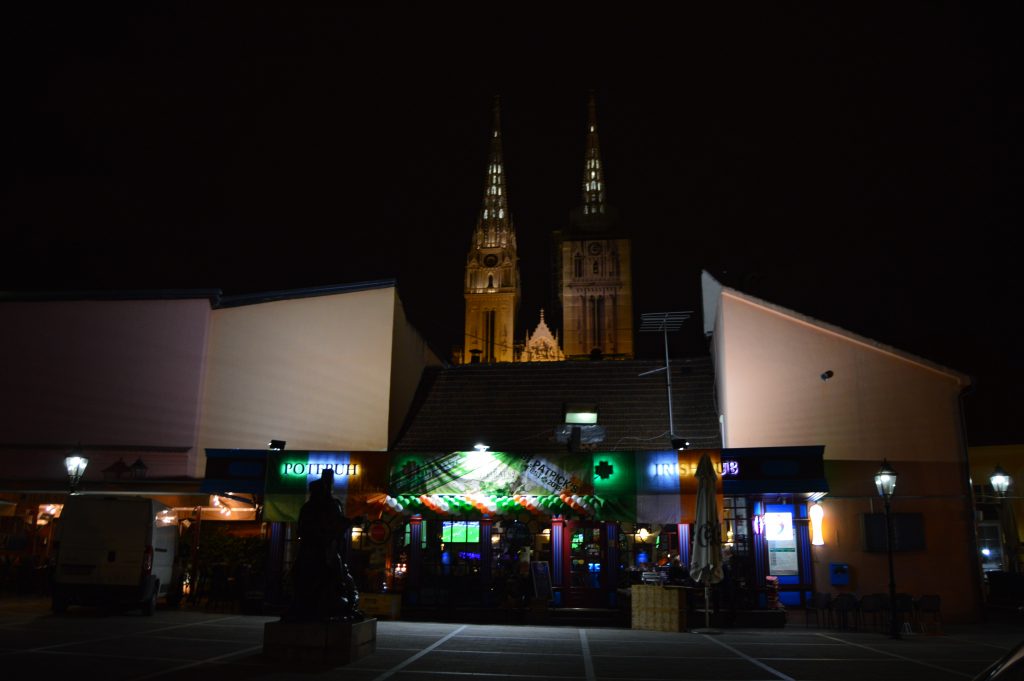 Four events I attended in Zagreb
LEAP – in fact, LEAP is the reason why I went to Zagreb. LEAP stands for Learn, Engage, Act, Progress. I enjoyed the lectures, discussions, meeting new people, and getting ideas. In case you're looking for a Summit where you can meet lots of people (well there are more than two thousand participants but obviously you can't meet all of them in about three days), and listen to great changemakers – then go to LEAP.
This slideshow requires JavaScript.
Festival of Lights – initially it didn't sound like a cool thing to do. I mean – a festival of lights? What to expect? However, I'm happy I did visit it and enjoyed the beatiful views.
This slideshow requires JavaScript.
2017 International Tourism Fair
Zagreb had the 2017 International Tourism Fair organized while I was there so I went to see what was there. I stopped by some agencies and checked what they have, but definitely, the highlight was the "Wonderful Indonesia". Apart from participating in a game to win a trip to Indonesia I also enjoyed an Indonesian dance by this little girl in the picture.
This slideshow requires JavaScript.
St. Patrick's Day – I was getting a bit nostalgic for the time I celebrated this event in Chicago and was selectively looking through the Insta Stories of my friends who still live there. When I saw the Irish Pub, I knew they'll be having a party to honor this day so I knew where I'd be going that night. It was a lively atmosphere, full of people, lots of beers, and lots of green color clothes (while I was wearing a red sweater. They had live music and it was really enjoyable to be celebrating St. Patrick's Day in Zagreb, although I have to say I missed being in Chicago and seeing the Chicago River being dyed green.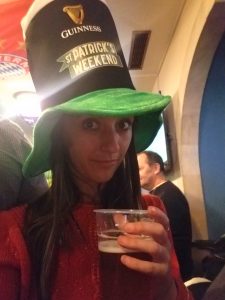 Two more things from Zagreb
Street art – yes, there can't be a city article by me now including the street art and graffitti. I don't even think it's necessary to explain what those mean as I know you are very smart to interpret them on your own.
This slideshow requires JavaScript.
Zagreb Airport – funny enough, the Zagreb airport made it to my post. It just looks cute and I enjoyed looking at it. Also, when I was leaving to Kosovo it started snowing. The snow covered Croatia Airlines plane looked pretty magical.
This slideshow requires JavaScript.
Where to stay in Zagreb
I stayed at ZigZag Apartments. It was very convenient – close to the city centre and in a walking distance to the main attractions. It was pretty spacious and the service was very good. You can book this accommodation or you can also use the deals finder below to get a good one.
Looking for more reasons to visit Zagreb? Check out this gallery of pictures below. It should definitely help you make your mind!
This slideshow requires JavaScript.
PIN IT!