I have researched a lot the Kosovo India relationships and I've come up with zero information. I was interested into this as I met lots of people coming from all different countries and cultures while living in the US during my studies. My network extended to China, India, Brazil, Colombia, and where not (Chicago is a very international city and so was my university). I did become good friends with many other students in Chicago through studies and also extracurricular activities that I attended. I keep in touch with most of them via social media. Sometimes, with a smaller group of friends, we video call so we can catch up on each other's lives.
Lastly, one of my friends, an Indian, shared the news of his marriage and invited me to his wedding celebration. I got really excited about the news and for the chance given to experience an Indian wedding. They seem to be happy, ceremonious, lively festivities. However, my excitement didn't last long as I remembered that my trip to India is impossible at the moment. India doesn't recognize Kosovo, nor Kosovo passport; thus, I won't be able to travel to India.
I was talking to another good Indian friend of mine and shared this info with her about the wedding invitation. She said she also wanted me to be at her wedding, which is probably happening early next year. So now two friends are getting married and I can't attend their weddings. All this because I was BORN in KOSOVO and I hold a Kosovo passport. But we don't get to choose our birthplace. However, we should be able to go around the world if we wish and can afford it.
When I looked at the Kosovo Ministry of Foreign Affairs' website, it said I could obtain an Indian visa at the Indian Embassy in Belgrade. I got excited about it and called the Indian Embassy in Belgrade to get more information. The Embassy employee said that if I only have a Kosovo passport, there is no way I could get a visa.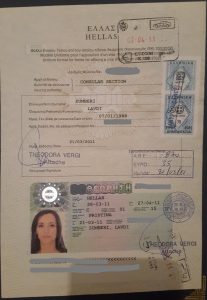 I was pleading with her to consider issuing a visa on paper for Kosovo citizens. Greek Liaison Office in Prishtina used to issue a visa on paper some years ago (prior to allowing us to travel on a Schengen visa). I tried that in vain, as she was firm about her position that there's no way to get a visa with a Kosovo passport.
So here I am, unable to visit a country of such diverse cultures, traditions, beliefs, foods, and festivities. Unable to visit the Taj Mahal, one of the new seven wonders of the world, or Kolkata (Calcutta), where Saint Teresa of Calcutta (of Albanian origin, born Anjezë Gonxhe Bojaxhiu) spent most of her life.
What are your CAN'T TRAVEL places (if you have any)?
PIN IT!