I had been to Dubai on a long layover but this was my first time traveling to Dubai with kids and things were, surely, much more different. In particular, when the kid I was traveling with isn't my own but my soon to be eight years old niece, Lira. She was also super excited as this was her first flight so everything was a first for her: from checking in, going through immigration, security check, boarding, and flying itself. She was super excited to get her first stamp on the passport and I was super excited to make this come true.
This slideshow requires JavaScript.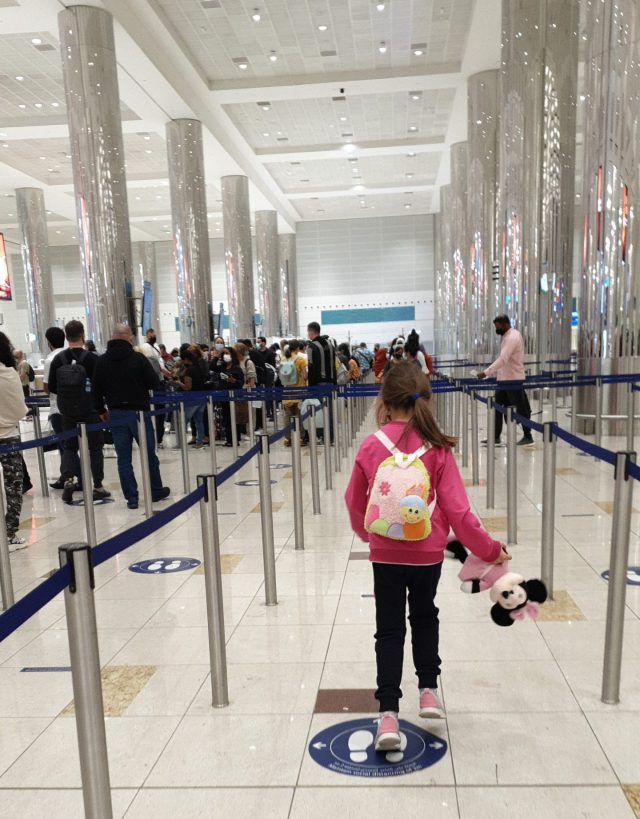 So let's start with the logistics:
Documents required to travel to Dubai for a Kosovo citizen with a kid
VISA: Apart from the obvious document – a.k.a. passport – a Kosovo citizen needs a visa to travel to the United Arab Emirates. Visa must be obtained beforehand and, usually, it takes about three working days (or faster) to obtain it through an agency of your choice. As I don't usually go through travel agencies but organize my travels on my own whenever it's safe to do so and the airline I flew with didn't help with the process (yep, FlyDubai wasn't helpful AT ALL!), I reached out to a couple of travel agencies in Dubai and one of them processed my and Lira's visa in record time and hassle-free. The visa fee changes depending on whether you buy health insurance or not and in my case I didn't since I am covered under the UNV program. All I had to send to the agency were the copies of our passports and the authorization and birth certificate of Lira.
Authorization: To take a kid outside of the country, unless the kid is traveling with both parents, one needs authorization from their parents (yes both!). In Kosovo, you do this with a notary who requires parents and the person's being authorized identity cards (IDs) to prepare the legal authorization. Then you have it translated into English from a sworn translator and voila.
Flight ticket: as I was traveling with a kid, I opted in for the most direct flight. That meant I flew from Tirana to Dubai, on a direct five and a half hours flight, on FlyDubai. Unfortunately, Emirates does not fly from Prishtina or Tirana and is currently not flying from Skopje due to the pandemic. I didn't like the flights, the customer service, or the handling of kids' entertainment (or lack of it). In one word, I wouldn't use them again (unless I have no choice). Flying from Prishtina would have been with a long layover in Istanbul and since I was traveling with a kid and I thought she might get tired and hate traveling hereinafter (and that was not what I wanted her to take out of her first travel overseas), we went for FlyDubai.
What to do in Dubai – special additions for Kids' attractions
There are a couple of must-do things in Dubai with kids and, of course, that depends on personal interests so the below is what Lira and I wanted to do in our one week there.
Burj Khalifa – Top of The World
Yes, being at the top of the world is a great feeling. Also, visiting Burj Khalifa was the only thing I had done in that earlier layover I had had a few years back. Since then, this was also Lira's top wish when visiting Dubai. So, we got our tickets and headed to Burj Khalifa in the evening so we could enjoy the fountain show as well.
As always, the view from the top is amazing and, initially, Lira was a bit scared to go closer to the glass windows but then she was okay with it. She even ended up enjoying the "breaking glass" on the shop. It was such a lovely time and a great feeling to see one of her dreams coming true.
This slideshow requires JavaScript.
Sunset desert safari
A dune ride followed by a dinner with a traditional dance and a fire show was another activity we could do together with Lira. We were picked up at our hotel and then went for the desert safari. On the way, we stopped at someplace where you could have an additional activity of driving on the cars but Lira wasn't willing to do it so we didn't (this was for an extra fee and not included in the package). The dunes ride was fun but also uncomfortable and probably a bit scary for Lira. But it's something worth doing at least once in your life. We had some time also to take pictures and the driver/guide/photographer was very helpful in this aspect. Lira loved the desert and kept running through it and enjoying it to the max. Another activity on the package was a short camel ride. Something I will totally never do again. Very very uncomfortable to ride a camel. The dance and fire show was lovely and we enjoyed it. We also had our little henna tattoos done there and the dinner which was delicious and plenty.
This slideshow requires JavaScript.
Al Fahidi Historical Neighborhood
Dubai is a modern city, with all skyscrapers and big shopping malls, and the souks. But there is more to it. Al Fahidi Historical Neighborhood was one of the attractions I wanted to visit – which was, unfortunately, tiring for Lira though she also enjoyed it for a while.
This slideshow requires JavaScript.
Kidzania
A great place to take kids and honestly I also felt compelled at times to join Lira in this lovely adventure. Located in Dubai Mall, this was a place that resembled a little town aiming at teaching kids about work ethics, finances, and management. There were places where kids would be "working" and then places where kids could spend their earnings.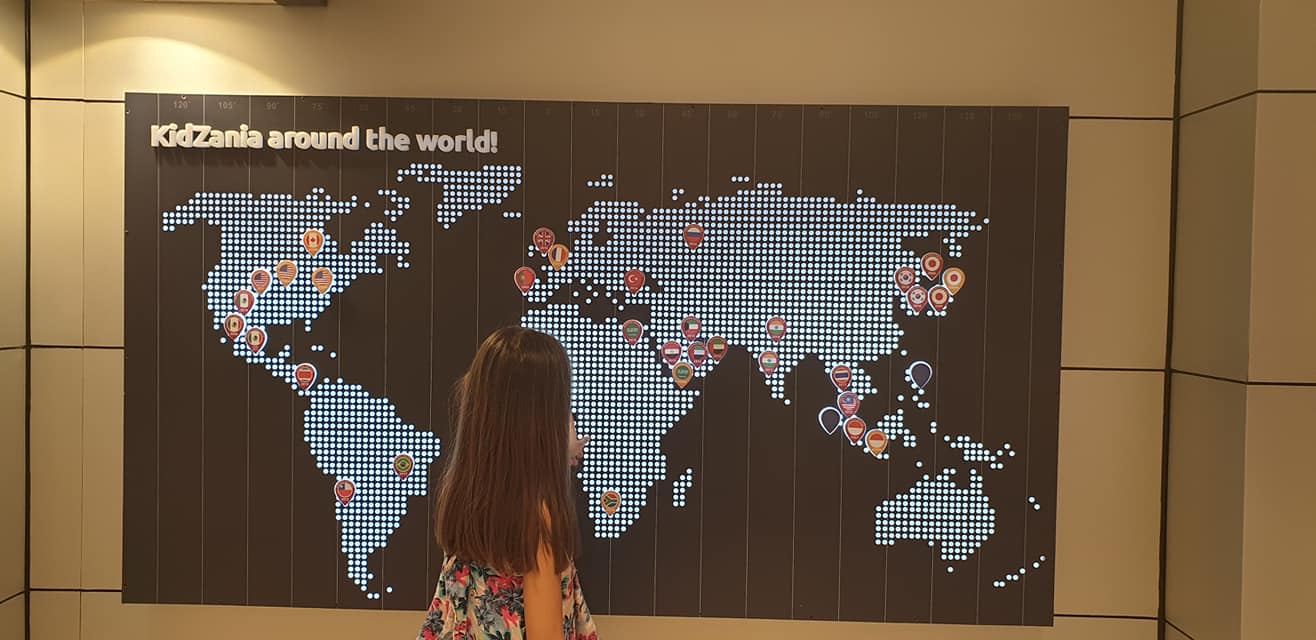 Beaches
Our hotel had a free shuttle bus to the beach so one morning we took it with Lira and had a lovely half a day at the beach. It was super hot though and at some point was unbearable so we took a break and went for a quick lunch. Being in Dubai with kids, especially not your own is at times tricky. This was that moment. Lira was super tired from the sun and hungry and due to the pandemic, only limited seating was available so we had to stand. At some point, when she was talking to her mum, she said she is not having a good time and my heart stopped beating for a few moments until I heard her saying why – she was feeling hot and hungry.
This slideshow requires JavaScript.
Shopping Malls
Yes, this is something everyone knows about Dubai. There are lots of shopping malls and you can literally find everything there. If you want to save some money then you go to the outlet and if not you go to Dubai Mall. To me, shopping malls are tiring so I only went to the outlet to get some items I needed and then to Dubai Mall on the way to Kidzania and just got a camel toy for Lira.
Where to stay?
We got a great deal at Tryp by Wyndham and stayed there throughout the week. The room was lovely, the breakfast was plenty and delicious, the pool was clean, and the location was good (close to markets and also public transport).
PIN IT