I visited Budapest, Hungary during Easter weekend. I am not a religious person and religion is not a necessary attribute to making friends or terminate friendships. Kosovo has always lived in a religious tolerance, in particular given the existence of three main religions and a number of sects and I was brought in this spirit. I see religious holidays more as a time which I can use to visit new places or revisit the old ones. I love it when they fall on Fridays or Mondays making up for a long weekend.
This Easter holiday, I decided to revisit Budapest, a city I've fallen in love with at first sight went I visited it back in 2009. Everything in Budapest is lovely: the architecture, people, walking by Danube riverbed, the National Parliament building, and what not.
Zsófia, my former boss, hosted me and she went above and beyond to please me during my stay. I don't think I can thank her enough, but I'll try to explain it here.
The first thing we did, after Zsófia picked me up from the airport, was eating. There was an Easter Market (or I'm calling it so), where I ate some traditional Hungarian food called krumplis prosza. This is some kind of a potato pancake, which tastes delicious and the portion was pretty big (I couldn't eat it all). One could choose to fill it with meat and/or cheese, so it was a good choice for vegetarians as well. I'm not sure where you can find krumplis prosza if you visit Budapest during other times, but if you can try to find and taste it – you won't be disappointed.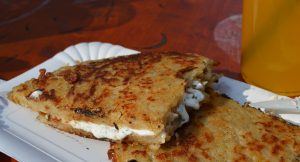 After eating that delicious food, we went nearby to one of the oldest cafés in Budapest, Café Gerbeaud, for a coffee and a dessert. It is a rather touristy place; however, it was worth visiting it and trying their home dessert (Gerbeaud Pastry, that is prepared according to Emil Gerbeaud's original recipe. It's a sweet pastry filled with apricot jam and a mixture of confectioner's sugar and ground walnuts, topped with chocolate icing.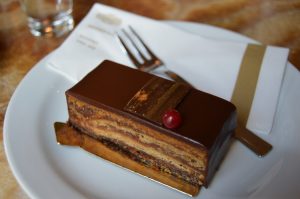 Since my stomach was full, we started chasing all the BUDAPEST/HUNGARY signs around the city (LOL). These were new things from my last visit in 2013. We took a picture there at the Budapest sign in front of Café Gerbeaud and continued to the Heroes' Square (which proved very difficult due to the enormous number of tourists).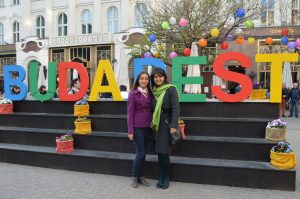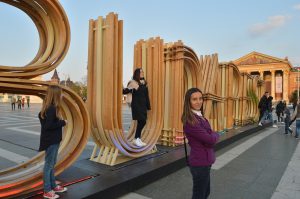 After a break from chasing the signs and few of the attractions, Zsófia and I went out to see the nightlife (something I'll have to look into more next time I visit Budapest). On the way back to her place, I couldn't miss the chance to take a picture of the amazing Hungarian Parliament Building. It's always stunning and eye-catching; day and night it's a great object to stare at (literally) and I'm no exception. It is also beautiful from inside, so don't miss a chance to have a tour while you're there!
It was a really lovely atmosphere in Budapest regardless the current political tensions concerning Central European University (CEU).
The next day I went around the part I'm familiar with: the Parliament Building, the Chain Bridge, the St. Stephen's Basilica, and the Fat Policeman Statue. I took the picture in front of CEU to show my support. I've attended a Good Governance program for Kosovo officials organized at CEU years back and for sure #istandwithCEU. Not only because of that but also because I support democracy and education.
I continued day 2 of chasing Budapest/Hungary signs and found out two new ones around the city. I couldn't stop but thinking why Prishtina doesn't have any (apart from the NewBorn sign)?!
This slideshow requires JavaScript.
The crème de la crème was the Easter lunch I had with Zsófia and her parents. Zsófia's mother prepared their traditional Easter lunch, that included salad, boiled eggs, and pork (not a foodie person so won't be able to explain how it was all prepared in details, but it was delicious), while the three of us carried on a conversation over a glass of Pálinka (I'm thankful for Zsófia's help with interpreting).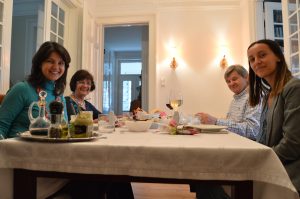 I didn't think I thanked Zsófia enough for the beautifully time spent in Budapest. I want the whole world to read about her and her parents' wonderful hospitality. We Albanians pride ourselves on being hospitable and I was glad (but not surprised) to experience the same in Budapest.
Where to stay in Budapest?
I stayed at my former boss' house, but you can check Booking for Budapest deals.
PIN IT!