Spending one week in Turkey means you get to see a little bit of the top of the iceberg. Turkey is huge and one could definitely spend a week in Istanbul only and not get to explore it all. My friend and I decided to do a tour of the main things and managed to visit everything we planned.
Is Turkey safe? 
The short answer is: YES!
The long answer is: I felt safe all the time (even when I was there solo this past January)! 
My friend and I felt safe at any time of the day and night during our time in Turkey. There were men who talked to us but would go away once you told them off or just didn't respond back. (I'm not justifying their behavior.) It happened that we came back late to our hotel but no one said a word (or even if someone did we know almost no Turkish so wouldn't notice).
Things to know before visiting Turkey
There are a couple of things to know before visiting Turkey:
Turkish currency is Lira and when I visited (first week of September 2018) one Euro was about 7 Lira (one time it went to 7.5) whereas one US Dollar was around 6 Lira.
Most of the Turkish people I've met know no English or their English is very limited. The only Turkish people I met during this week-long trip who were able to converse in English were: a new friend I've made from my Facebook page, Jalan; our tour guide in Göreme, Umut; a guy who was selling water outside the metro station in Izmir who showed us the direction to the bus going to Alaçati; whereas the hotel people we stayed had limited English but were able to answer our questions. The rest of people simply said no English and two ladies (one in Denizli and one in Istanbul) used Google translate to communicate.
If you're planning to visit any mosque (which probably you will do in Istanbul), bring a scarf with you which you can use as a head cover and wear long dress or pants (not tight pants though as they're not allowed inside the mosque as they show your body lines – yeah, we do work to keep those lines, I know, but rules are rules). Men also should not be wearing over the knee pants or they will be given a long skirt to wear.
Learn some basic words: merhaba – hello, teşekkür – thank you, güle güle – goodbye, yok hajir – no, and evet – yes.
Book your public transport in advance – unless you're up for an adventure as my friend and I had from Göreme to Pamukkale. We were lucky to meet Umut and Ali during our Red Tour but one can't base their travel plans in luck, right (especially when one's short of time)?
Eat local food and lots of sweets – yes, there is Starbucks and McDonald and KFC and many others but why do you need them when Turkish food is so delicious? Their sweets are to die for – just stroll around the Grand Bazaar or Spice Bazar in Istanbul and you'll understand why.
You will see so many cats all over Turkey and they are adorable.
This slideshow requires JavaScript.
What to see in one week in Turkey?
Depends on your interest and how you want to split your time. Since I had been to Istanbul before and the main reason to go this time to Turkey was to visit Cappadocia and hop on a hot air balloon, the plan was to spend: 2 nights in Istanbul, 1 night in Cappadocia, take a night bus to Pamukkale, and 2 nights in Izmir. However, this plan changed along the way for two main reasons: 1. we didn't book our bus seats from Göreme to Pamukkale which caused a real fun adventure and Pegasus airlines was delayed on their flight from Izmir to Istanbul which caused us to miss our flight to Pristina so we ended up spending one more night in Istanbul (initially it was so sad as I had plans to attend Hardh Fest in Rahovec – which I did – but then we ended up going around and doing some more shopping – especially since Turkish lira devaluation made it favorable for us).
Istanbul for sure requires more than two nights. There are so many things to do there so you should plan accordingly. We decided to cover two neighborhoods – Fatih and Kadikoy – but we might have stepped into other neighborhoods also while we were just going around with no plan in mind.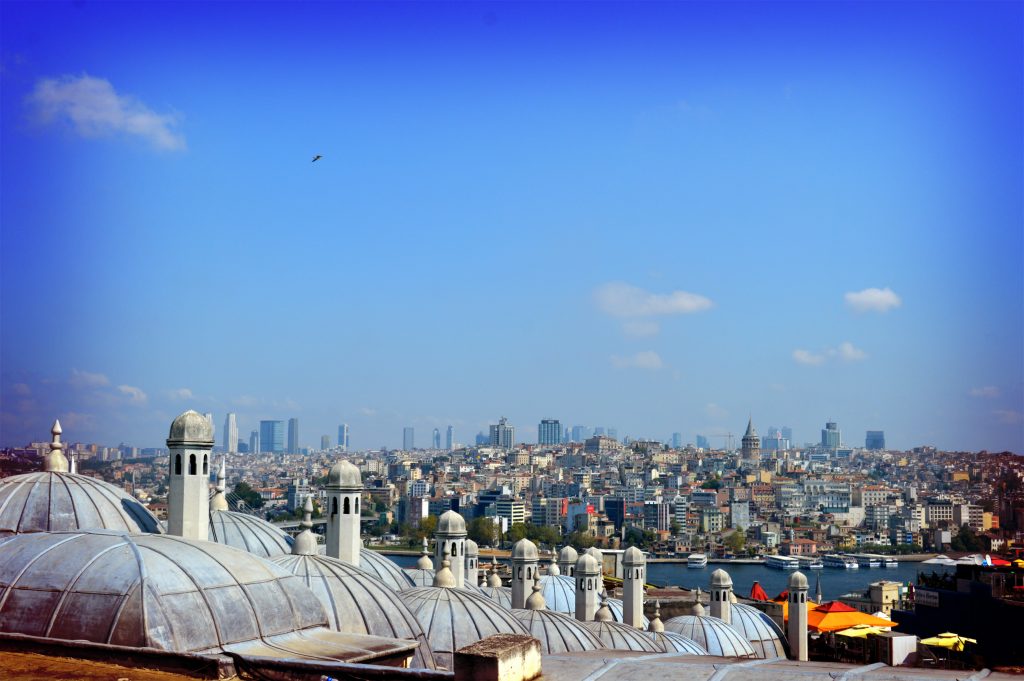 Cappadocia (Göreme) – we spent one night only but now I wish we had spent two (although it's okay that we spend one so we can go back and spend another one some other time). Plan to spend two nights and definitely go on a hot air balloon. No picture, no video, no story can convey what you feel up there in the sky with all the balloons around you (oh, and the music our "pilot" played was romantic – there were a couple of couples there LOL).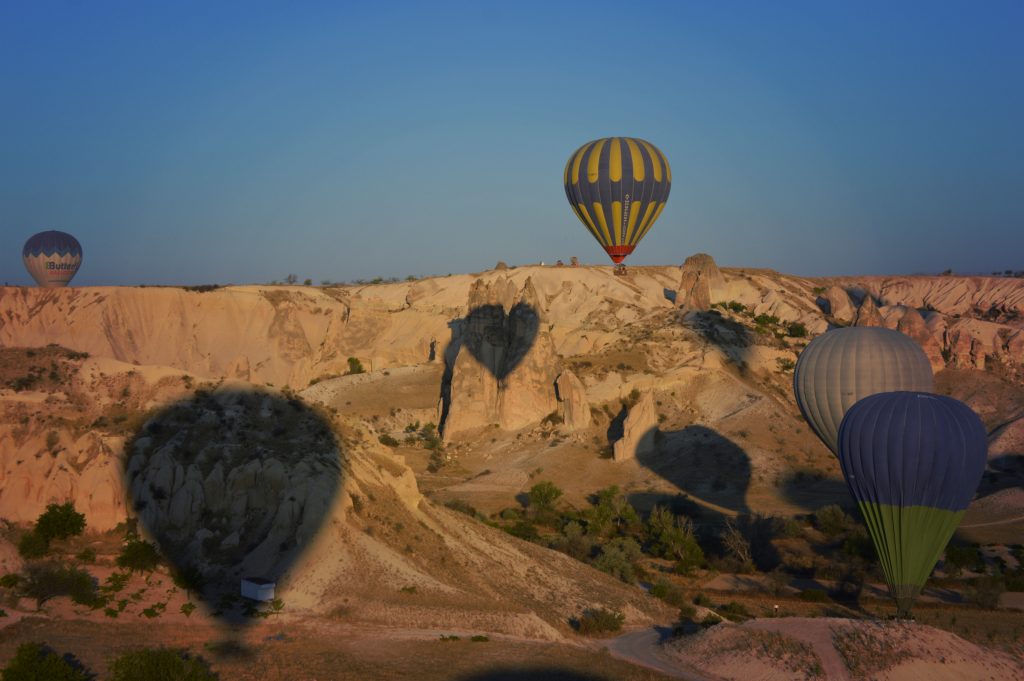 Pamukkale – So not to miss when in the region. We almost missed it because of not booking our bus and after having gone there I so regret and blame myself for not having booked the ticket to be at peace with the plan. Not just the travertine terraces, but Hierapolis (in the featured image) is a MUST see. Also, this is a UNESCO World Heritage site, so don't miss it.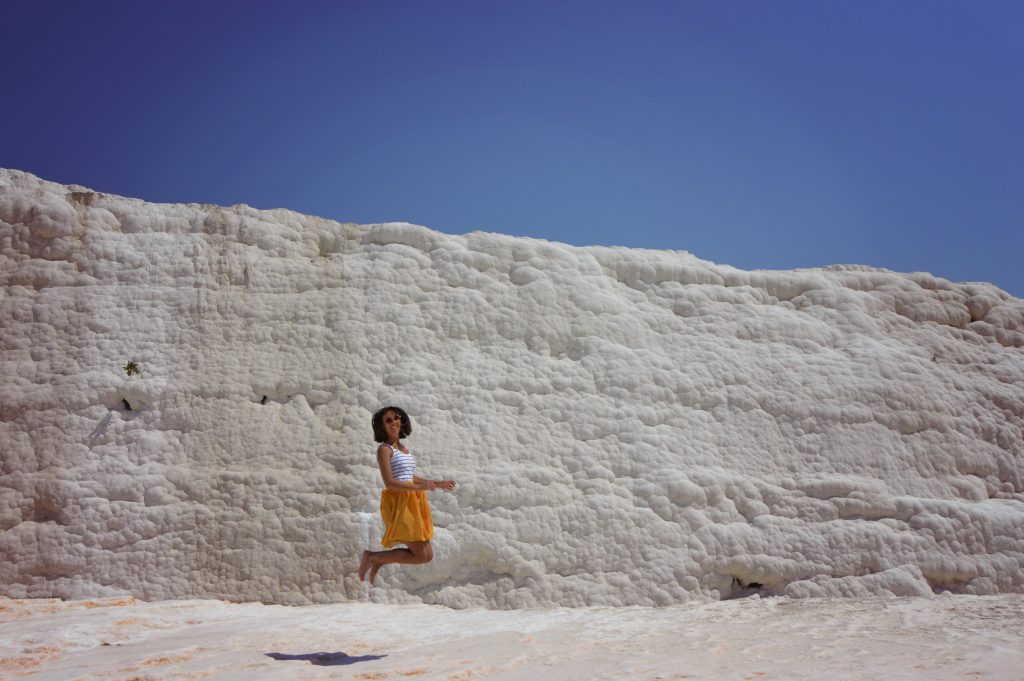 Alaçati (Izmir) – this Greek-like little village took my heart the first moment I came across posts about it online. However, seeing it with my own eyes confirmed all the already built love about it. Alaçati is located about 1 hour and 15 minutes from the city center of Izmir and it is amazingly beautiful. I literally can't take it out of my mind and I've been telling my friends I'd love to move there.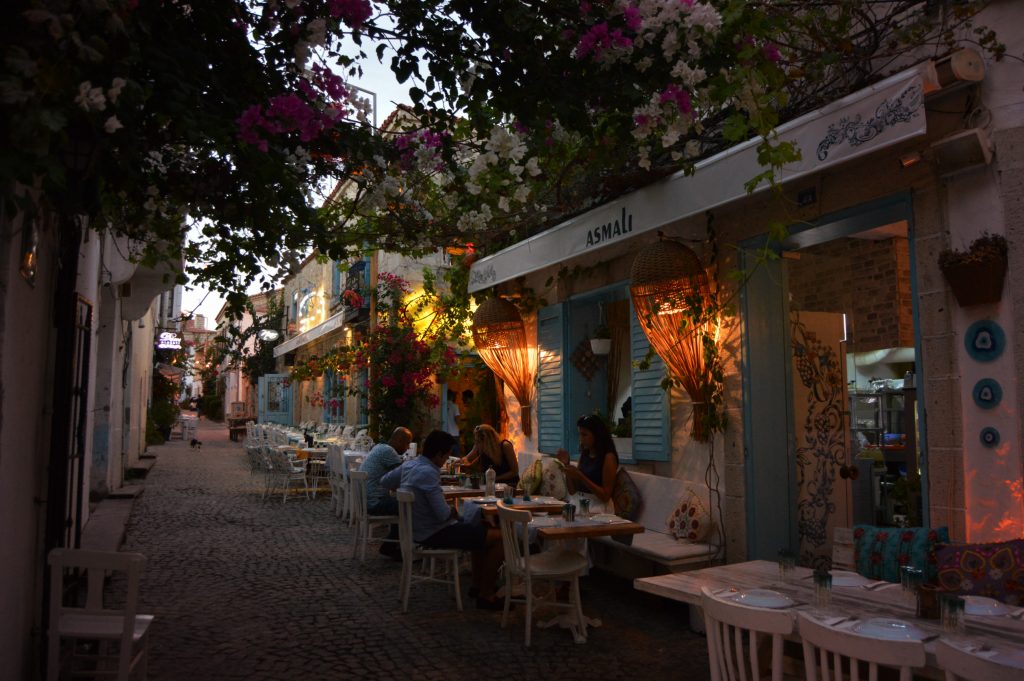 Where to stay in Turkey?
As I mentioned before, if your currency is Euro, it will be very cheap to travel to Turkey and that includes the accommodation. In Pamukkale for instance, we paid 130 Turkish Lira for a room, breakfast included, a swimming pool, and the view of Pamukkale travertine pools. If you need some inspiration for where to stay in Turkey check out this inspiring search box from Booking* below.
PIN IT!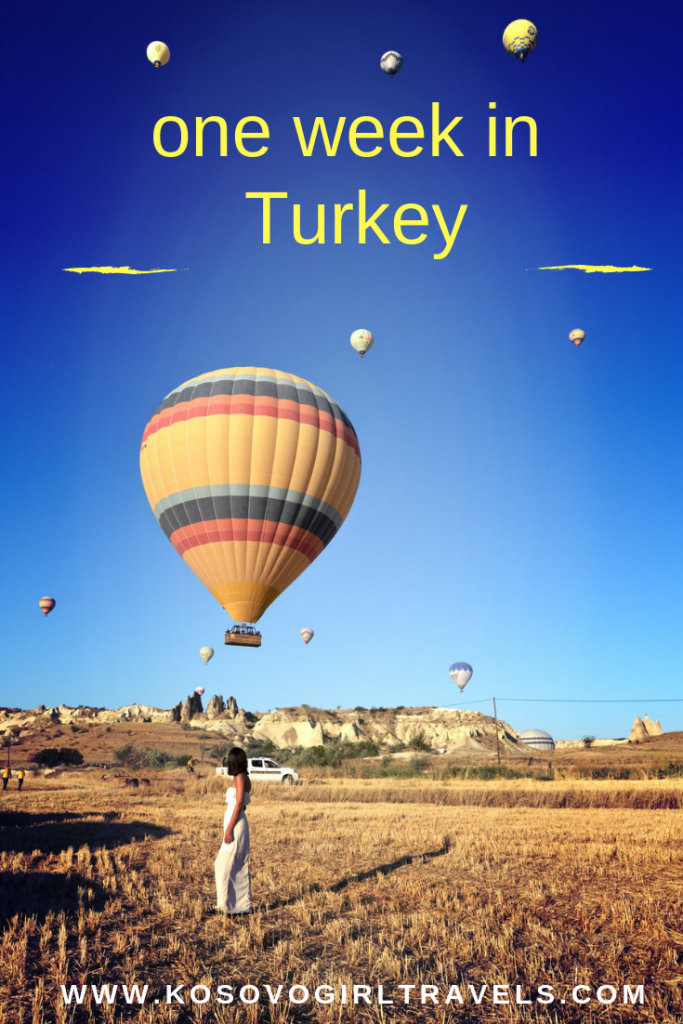 *I'm a Booking affiliate and if you book through my site I get a little commission at no extra charge for you