With only ten days away from the 10th independence anniversary, I wanted to give you a list of ten Kosovo attractions to visit. Although many people visiting Balkans skip Kosovo because of this or that reason, if you are reading this you should not be doing that. Kosovo has a lot to offer for everyone (apart from the sea – not lucky on this, what to do) and if you come once, definitely you'll want to come back again and spend more time.
There are many reasons to visit Kosovo. There are various Kosovo attractions to visit, although many tourists seem to only use Pristina as a transit city and at most visit only Prizren while being here. This post is not about all the beautiful places you can visit in Kosovo; for that, you can read the post of one of my favorite travel bloggers, Karen. This post is about historical places or other important attractions to visit in Kosovo, as it celebrates the 10th independence anniversary.
READ MORE
It was very difficult to only select ten Kosovo attractions to visit on 10th independence anniversary; however, I made it (I cheated a bit as you will see below). Each of the attractions provides a great source of information and history to enrich you more on Kosovo's past and its struggles to become independent.
Numbers don't show the importance of attractions. Also, see a map of the Kosovo attractions to visit at the end of this post.
1. Museums in Pristina
– Museum of Kosova 
The national museum is a great source of information for the history of any country. That is not an exception for Kosovo. Thus, if you want to start your historical trip to Kosovo on its 10th independence anniversary visit the Museum. This year, the Museum will host a permanent exhibition which will showcase the history from the Neolithic era to the 2008 – when Kosovo declared its independence. The exhibition includes heritage artifacts that show the cultural and historical identity of Kosovo.
This slideshow requires JavaScript.
– Ethnological Museum 
This is a complex of several preserved houses from 18th and 19th century. Originally, the house belonged to Emin Gjiku and in 2006 it opened as Ethnological Museum. It hosts an oda (which used to be a living room for men only and this kind of odas can still be found in some parts of Kosovo), several traditional dresses, tools, musical instruments, and other heritage artifacts. The museum is only about five minutes walk from the Museum of Kosova and there are signs along the way to show you the correct direction. It is open Tuesday to Saturday from 10 a.m. to 5 p.m, Sunday from 10 a.m. to 3 p.m., whereas closed on Monday.
This slideshow requires JavaScript.
2. Memorial Complex "Adem Jashari" – Prekaz
Kosovo's modern history is unavoidably connected with Jashari family in Prekaz. Adem Jashari was one of the founders of Kosovo Liberation Army (KLA), the armed forces which fought against the Serbian regime. The Jashari family was attacked in January 1998; however, family members were hidden in the woods so no casualties were caused. Nevertheless, on March 5, 1998, Jashari family were attacked by Serbian forces again early morning and this time they were all inside the house. After three days of the fight, sixty-one family members (women, men, elders, children) were killed leaving behind only one 10-year old girl, Besarta (Adem Jashari's niece) alive.
Today, based on a law adopted by Kosovo Assembly, the Jashari family compound is considered a site of ontological, anthropological, historical, cultural and civic significance for the wider Albanian nation.
To learn more about the history of Adem Jashari, Jashari's family, KLA, and the Memorial Complex visit their official website.
This slideshow requires JavaScript.
3. Ulpiana archeological site
Ulpiana is considered to be an ancient site of the first century. It thrived later on under Roman occupation and the Byzantine period. The site is near a mining area of precious minerals, the land is low and fertile and the surroundings are so beautiful. The site has several walls, rooms, and cemetery which are constructed of stone, marble, and bricks.
In order to visit this Kosovo attraction, you have to go from Pristina towards Gracanica municipality and then follow the signs to the site. From Pristina, it will only take about half an hour drive (depending on traffic). You can also take a taxi or go by bus (the one going to Gjilan) and then walk there or hitchhike.
This slideshow requires JavaScript.
4. Novobërdë Castle
Currently, the Novobërdë castle is undergoing some conservation works; however, it is open for visitors. The castle is about an hour and ten minutes drive from Pristina (depending on traffic) and the views from up there leave you speechless.
Novobërdë city is mentioned in written historical sources since 1326 under Nuovo Monte. During the archeological excavation (1951-2003), various architectural objects were found, such as cult/religious buildings, houses, gold coins, etc.
This slideshow requires JavaScript.
5. Prizren Castle
This is probably number one spot or Kosovo attraction visited in terms of tourists. It is in a perfect location which overlooks the city of Prizren and it is always a good idea to do the (about) 15 minutes hike to experience a sunset or a sunrise. The archaeological works have found traces from 16th to the 19th century.
The Castle is undergoing some preservation works as it has been damaged over years and it is under temporary protection as a cultural heritage site of Kosovo; however, it is open to the public and it's a lovely place to spend a couple of hours and relax. It is also a good spot for taking beautiful pictures.
This slideshow requires JavaScript.
6. Cathedral of Saint Mother Teresa
This is a Roman Catholic Cathedral built to honor the Blessed Mother Teresa. Its foundation was ceremonially laid in 2005, whereas the inauguration took place in 2010 while the construction, which is almost finished, started the following year. The consecration of the Cathedral took place on the first anniversary of Mother Teresa's canonization in Rome (September 5, 2017) and was attended by   Cathedral is one of the tallest buildings in Pristina and its tower provides for a good 360° view of the capital of Kosovo.
This slideshow requires JavaScript.
7. House of the League for the Defense of the Rights of the Albanian Nation
League for the Defense of the Rights of the Albanian Nation (or League of Prizren) was founded on June 10, 1878. The League was established by Albanian intellectuals in order to protect Albanian territories and not allow them to be partitioned among the Balkan countries.
The League of Prizren hosts two buildings which showcase the history of the League and many artifacts of the time. It also has some attire of various regions, cooking dishes used at the time of the League, statues, and paintings depicting the main figures and developments.
This slideshow requires JavaScript.
8. Statues in Prishtina
There are several statues in Prishtina which deserve tourists' attention when visiting and all of them have their own importance. I have put below several ones which can be found along the main boulevard "Mother Teresa" and the one every tourist stops by when visiting Pristina – the Bill Clinton statue.
– Ibrahim Rugova
Rugova was the first President of Kosovo and served from 1992 to 2000 and 2002 – 2006 when he died. He co-founded the first political party in Kosovo. He tried to keep a peaceful resistance in Kosovo against the Serbian regime, but that wasn't working in 1998 – 1999 anymore (although there had been issues all the time) and this is why the armed resistance overtook the lead. Unfortunately, President Rugova did not live to witness Kosovo's independence, but he is remembered throughout the country and still deeply loved by many.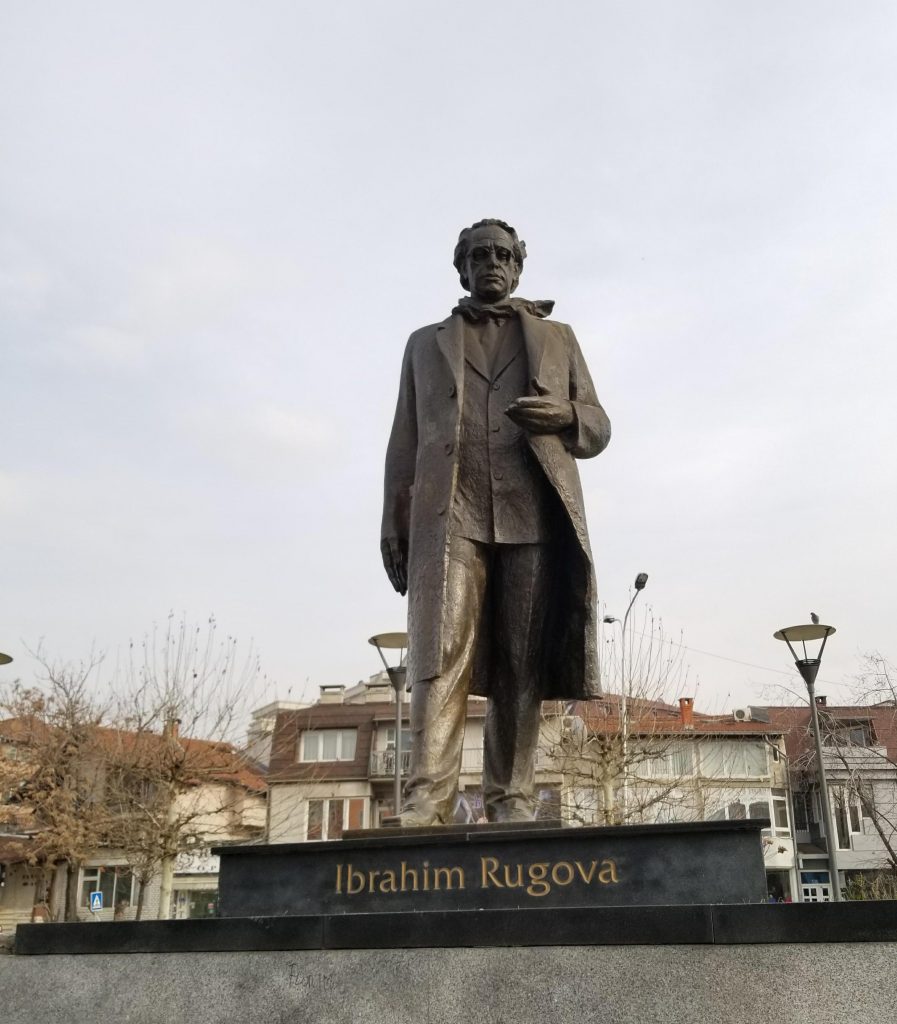 – Gjergj Kastrioti – Skenderbeu
Skenderbeu is considered as a national hero from Albanians all over the world regardless of their religion. His statues have been erected in many countries and Kosovo is no exception. Skenderbeu fought against Ottoman Empire and is recognized as the one who joined Albanians. 2018 is declared as the nationwide Year of Skenderbeu which corresponds with the 550th anniversary of his death.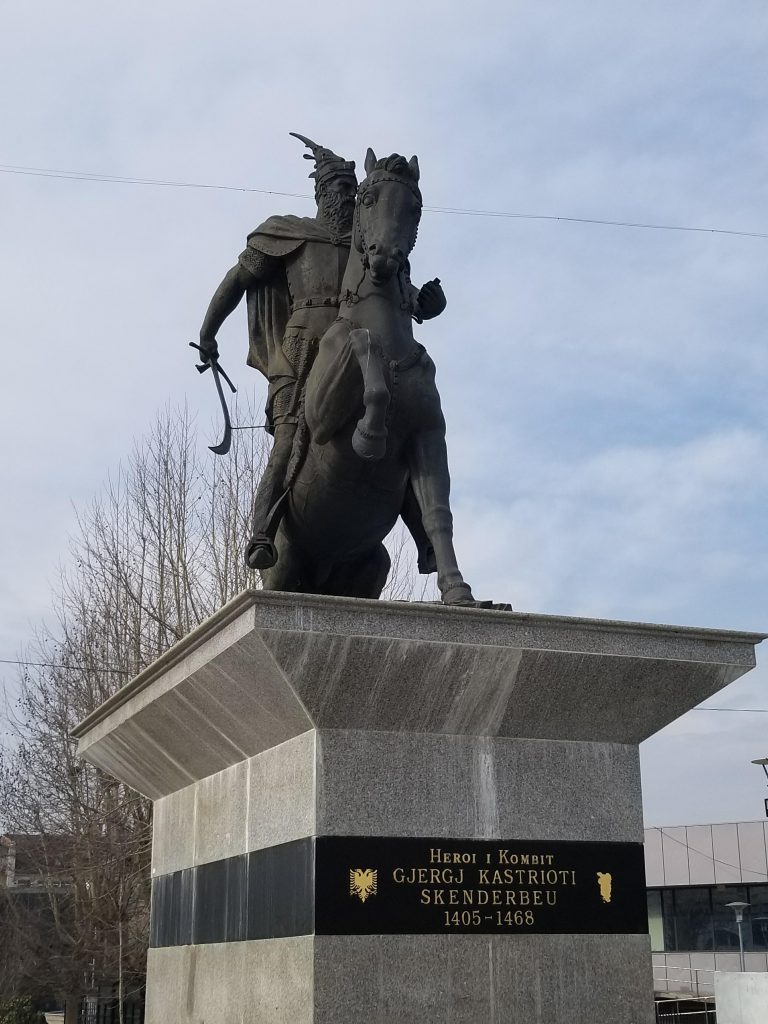 – Mother Teresa
Mother Teresa is another Albanian figure that connects Albanians all over the world. The main boulevard in Pristina has her name and it also has her statue. She was born in Skopje which at that time was the capital of Villayet of Kosova under the Ottoman regime. Although she spent the majority of her time in the slums of Kolkata/Calcutta and Kosovo Albanians cannot to this day visit India, she didn't forget her origin.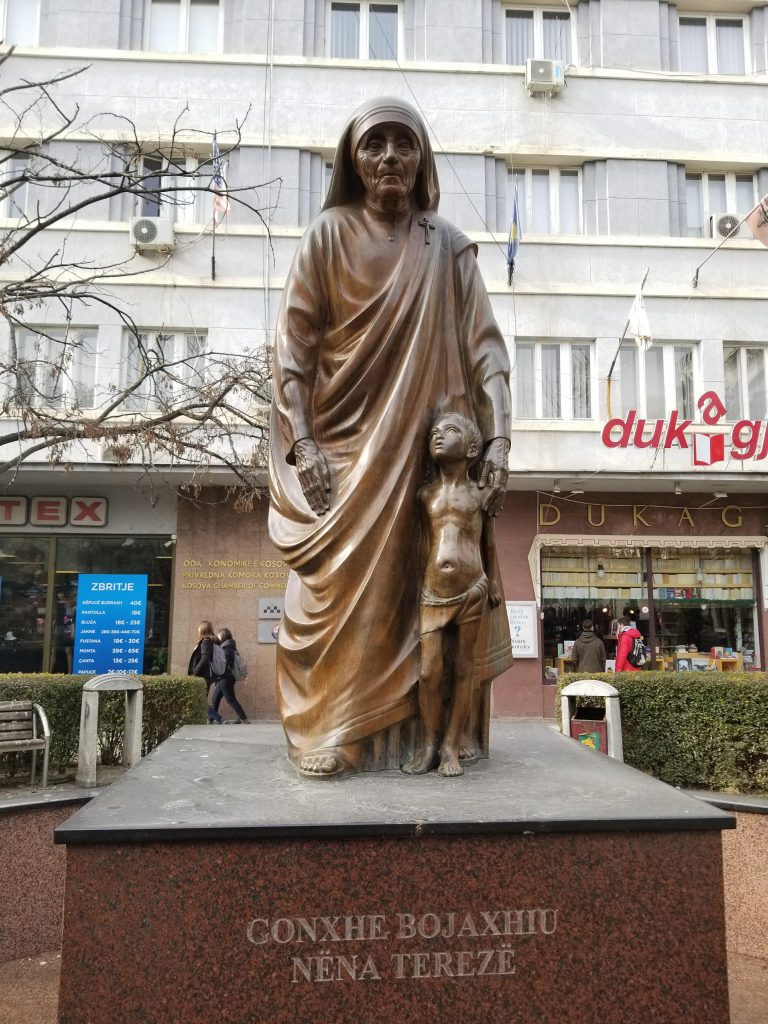 – Zahir Pajaziti
Pajaziti is among the first commanders of the Kosovo Liberation Army and was known as the "First Gun of Freedom". He was born in Orllan, Municipality of Podujeva. He was killed in 1997 in a gunshot with Serbian armed forces in Vushtrri. He was declared a Hero of Kosovo in 2008.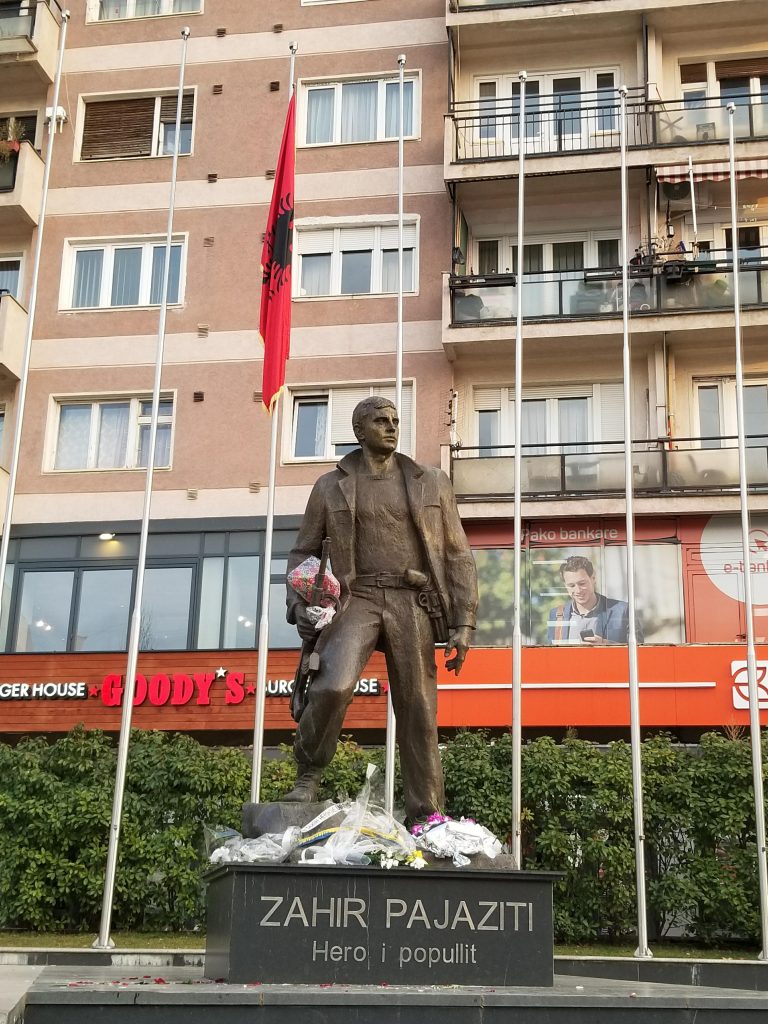 – Bill Clinton
Some people joke with the Bill Clinton statue because of his big hands and small body (well at least his hands are big, come on. It's difficult to have both big hands or small hands – people judge either way); nevertheless, they all stop there to take a picture with the former US President who played a huge role in 1999 in saving Kosovo Albanians from the Serbian regime. This is why his statue was erected and Kosovo Albanians are still the most pro-American people (even now during Trump presidency).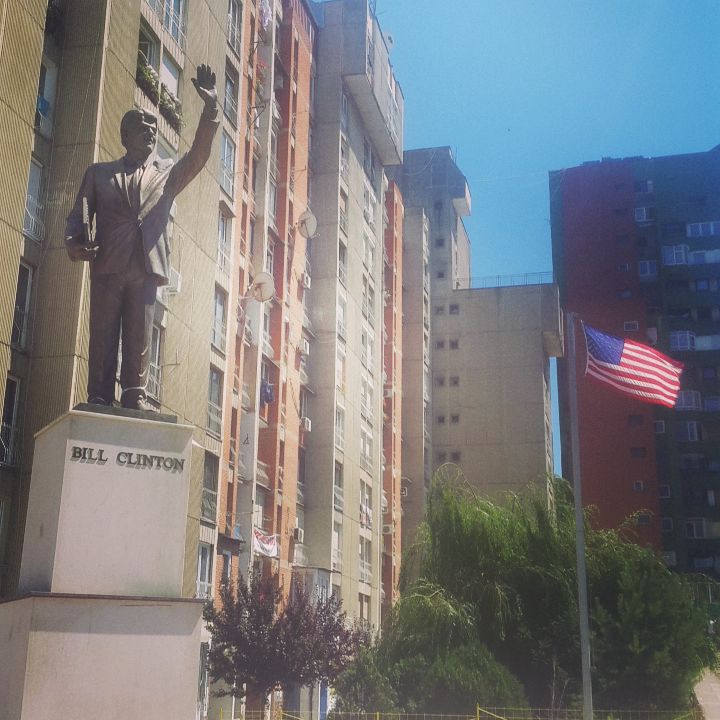 9. Monuments/Installments
– NEWBORN
NewBorn is one of the spots both locals and tourists take pictures when in Pristina. It was erected on February 17, 2008, in honor of the independence of Kosovo; thus, NewBorn will also be 10 years old. What is interesting to say is that it changes its look every year depending on the hot topic. The most memorable ones to me were the one with the flags of the world and with the blank spaces only with the name of the countries that haven't recognized us, the one symbolizing the sky with the barbed wires symbolizing the lack of freedom of movement for Kosovo citizens holding only a Kosovo passport within the Schengen area and in the world. Last year's symbolism was in line with the wall build in Mitrovica to divide the city (already divided by Iber river) and the wall proposed by the US President Trump to be built by Mexico to prevent Mexicans to enter the United States. In some comments in social media someone also commented it as E-Born, meaning European born (which is true but yet Kosovo citizens don't enjoy the same rights as other Europeans).
This slideshow requires JavaScript.
– Heroinat
Another monument that needs to be visited is the memorial monument called "Heroinat". The memorial is worked with over 20,000 medals which bear a woman portrait. This memorial is dedicated to all Albanian women who suffered during the war. It is estimated that about 20,000 women were raped by Serbian forces during the war.
This is among few memorials dedicated to women who played an important role during the war, even by fighting alongside men. However, their role has been downsized or almost forgotten in our patriarchal society.
This slideshow requires JavaScript.
– LEGO
The LEGO piece (which has been slightly relocated from the one you see in the picture below) was installed in 2016 on Europe Day to protest in an artistic way the lack of visa liberalization for Kosovo citizens. It symbolizes the left out piece (read Kosovo) from the freedom of movement within the European Union Schengen Area member states.
10. Çarshia e vjetër – Gjakova
The city of Gjakova is one of the localities that suffered the most during the 1999 war and most of it was burned to the ground and destroyed. However, after the war, the old bazaar or neighborhood of Gjakova was rebuilt and it provides an excellent place to go and spend some hours or even some days/nights. The Çarshia e vjetër is a lovely place to visit, in particular during warmer days, and enjoy a drink in one of the small cafes.
This slideshow requires JavaScript.
Bonus attraction
I asked travel bloggers from Kosovo or located in Kosovo to share one historical attraction with me for this post and since there aren't many travel bloggers (or I couldn't reach out to them in this limited time span), I got a response from travelaround, run by Merve Atilla, an English teacher working in Kosovo who loves traveling as she believes " it makes (her) a better person". 
Field of blackbirds
As we are about to celebrate Kosovo's 10th anniversary, it might be a good idea to share some historic places to visit in Kosovo. One of the most interesting but less-known places is called Field of Blackbirds. The name "Kosovo" appears to be derived from the Serbian word for blackbird, "Kos," and Polje can be translated as"field".
On this field between 40,000 and 70,000 men perished in only 8 hours' time, and along with them the two leaders – Prince Tsar Lazar of Serbia and Sultan Murat I of the Ottoman Empire – in the Battle of Kosovo in 1389. Above the field today stands the Gazimestan Monument: a stone tower rising from the large plains. Located 8km northwest of Pristina, it was named for 'ghazi,' Arabic for 'hero,' and the Serbian word 'mesto,' meaning 'place.' There is also the tomb of Sultan Murat where his internal organs were buried and remain to this day in the tomb at the site.
600 years later, on 28 June 1989, Slobodan Milošević, the president of Serbia at the time gave his famous speech to mark the 600th anniversary of Battle of Kosovo to a huge crowd gathered at the place where the battle had been fought. However, that speech increased ethnic tension between ethnic Serbs and Albanians in Kosovo as Milošević implied something of the violence to come: "Six centuries later, now, we are being again engaged in battles and are facing battles. They are not armed battles, although such things cannot be excluded yet."
As a tourist attraction, it offers some understanding of the culture of Kosovo and Serbia, and of the terrible violence and heartbreak in many ways. The easiest way to reach the monument is by taxi from Pristina (Approx 10 Euro for a roundtrip). The monument is guarded 24 hours by Kosovo Police so you may need to show your passport/ID in order to get close to the monument.
This slideshow requires JavaScript.
Where to stay?
PIN IT!
Did you like it? Pin it so others can read. And don't forget, sharing is caring.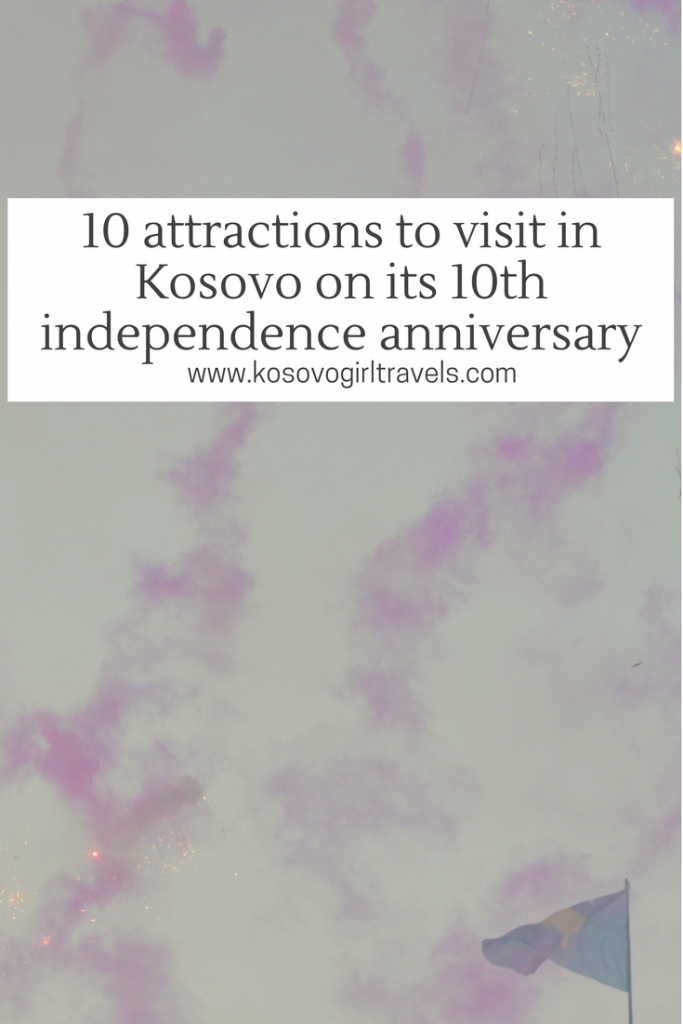 P.S. I want to thank my Instagram followers and the wonderful women members of the Facebook group Kosovo Girl Travels for sharing their recommendations with me. In addition, I want to wholeheartedly thank photographer, Arben Llapashtica, for letting me use his pictures of the NewBorn.
MAP OF THE KOSOVO ATTRACTIONS TO VISIT